Dorothy's ruby slippers get designer bling
By Jan Paschal
NEW YORK (Reuters Life!) - Well-heeled fans of "The Wizard of Oz" looking for their own pair of ruby slippers can choose from a collection made by top designers with red Swarovski crystals.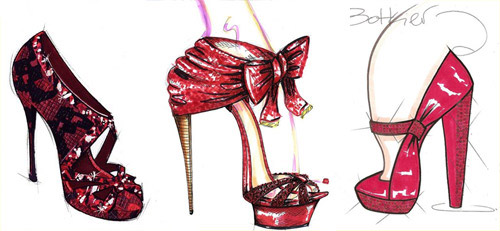 The Wizard of Oz Ruby Slipper Collection by Jimmy Choo, Gwen Stefani and Botkier
From stiletto heels to platform soles all the shoes from the Ruby Slipper Collection, unveiled at a party to mark New York Fashion Week, are based on the iconic 1939 Hollywood movie starring Judy Garland as Dorothy. They will be raffled next year to benefit the Elizabeth Glaser Pediatric AIDS Foundation.
"What we did was ask, 'What would Dorothy wear now?'" Michael Fink, Saks Fifth Avenue fashion director, told Reuters in an interview.
"Then it was like 'Go wild! Have fun with it!' That's the only direction we gave the designers," he added.
The collection was commissioned by Swarovski, which donated the crystals, in partnership with Saks and Warner Brothers and includes shoes by a dozen designers ranging from Abaete to Manolo Blahnik.
Betsey Johnson, who is known for whimsical feminine styles, used red tulle bows on a platform shoe with chunky crystals.
"Dorothy's a modern girl. She's clubbing. So she's got a downtown funky shoe with her little anklets," Fink said, showing a display window at the store where a 20-something Dorothy mannequin wore a green mini-dress with Betsey's ruby slippers to the Emerald Club.
Jimmy Choo designed four-inch red snakeskin stilettos with ruby crystals on the vamp, while singer Gwen Stefani's L.A.M.B. label gave Dorothy a pair with red satin ankle bows.
Fink estimates each pair is worth at least $1,000, adding that plain leather couture shoes at Saks start at $650.
But since the shoes will be raffled for charity next year, in conjunction with the 70th anniversary of the movie's release, each pair could easily fetch much more.
"The sky's the limit!" Fink said.
© Thomson Reuters 2023 All rights reserved.