Documentary offers revealing look behind cover of Vogue
By Justin Lowe
PARK CITY, Utah (Hollywood Reporter) - British expat Anna Wintour has been editor-in-chief of Vogue magazine for more than 20 years. With her creative and editorial teams, Wintour produces one of the industry's most revered fashion guides, eagerly perused by millions worldwide. In "The September Issue," veteran producer/director R.J. Cutler pulls back the curtain on Vogue's production process, revealing the fascinating creative techniques and business considerations behind the magazine's creation.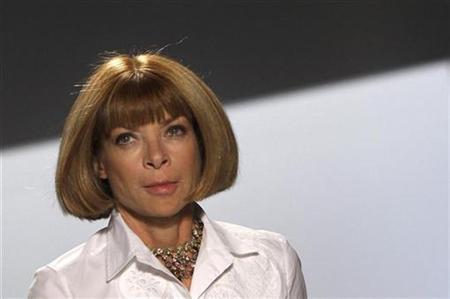 Fashionistas are sure to devour the film when it's broadcast on A&E Network, though a theatrical gambit may require intensive marketing to turn out audiences who have a choice of similar, if inferior, TV programming. An entry in the Sundance festival's U.S. documentary competition, the film received an award for Bob Richman's cinematography.
The September issue of the magazine, profiling fall fashions, is typically the largest, with lush photo spreads, in-depth articles and extensive advertising. Cutler spends eight months prowling the halls of Vogue's New York offices and piggybacking on fashion shoots as Wintour and her editors prep the 2007 edition's 800-plus pages.
Jetting from New York to fashion events and ateliers in London, Paris and Rome, Wintour meets with the world's top designers, discussing couture options for the September issue. The deference that leading tastemakers Jean Paul Gaultier, Oscar de la Renta and Karl Lagerfeld show Wintour is notable, clearly demonstrating the extent of her influence in the fashion industry.
Back in Manhattan, the fashion and content editors plan photo shoots and feature articles, with creative director Grace Coddington, a former British Vogue model and editor, providing an overall vision for the magazine. Coddington and Wintour represent opposite sides of the art-commerce equation, with the creative director fiercely advocating bold stylistic choices, while Wintour, who always has the final word on any topic, focuses on her broader concept of Vogue's objectives.
The biggest challenge with the September instalment involves the cover design featuring actress Sienna Miller. Although Wintour originated the concept of fashion magazine celebrity cover images, she's disappointed with world-renowned Italian photographer Mario Testino's photos of Miller, so the design staff has to composite elements from different shots at the last minute to produce a satisfactory cover.
Cutler navigates Vogue's predominantly feminine realm with aplomb, concentrating as much on the magazine's publishing process as the fashion angle. His observational approach captures a wealth of revealing moments between magazine staffers, designers, photographers and stylists, sometimes to the participants' chagrin.
Cutler also convinces the notoriously private Wintour to remove her trademark sunglasses and provide remarkable access to her personal and professional activities. Consistent with her ice queen reputation, Wintour is often disconcertingly direct and frequently unfeeling, though not without a dry sense of humour.
The digital production clearly benefits from the format's mobility, as cinematographer Richman seeks out subjects' most telling glances and gestures, then opens the frame to absorb the glamour and excitement of haute couture fashion shows and photo shoots. Editor Azin Samari stylishly distils hundreds of hours of footage into a vibrantly energetic narrative.
Reuters/Hollywood Reporter
© Thomson Reuters 2023 All rights reserved.