Digital mirror: fashion brands convey glamour online
By Marie-Louise Gumuchian
MILAN (Reuters) - With videos of catwalk shows, pictures of glamorous models and a catalog of chic products, luxury brands are creating "digital mirrors" online as they turn to the internet to tap into growing e-commerce demand.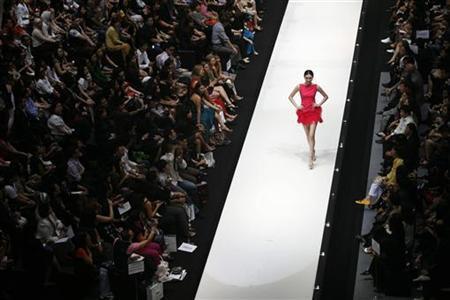 The traditional print advert in a glossy magazine is no longer the only way to communicate with the public and fashion houses are now reaching out to their consumers through websites, Facebook pages, Twitter accounts and phone applications.
Having created brand strength by emphasizing product design and quality and on their brand aura, fashion groups are seeking to re-create their exclusive store atmosphere online.
"If it is done well, the web can convey a luxury atmosphere even better than traditional media," Michele Norsa, chief executive of Florentine maison Salvatore Ferragamo, said.
The Web and social networking sites present strong growth prospects for luxury groups as they emerge from the crisis and consumers grow more confident using the Internet to shop.
Luxury shopping is usually associated with seeing, touching or smelling the product as well as a personal service, and this translates into a premium e-commerce experience online.
Italy's Yoox, which powers sites for names such as Emporio Armani and Valentino, says it seeks to create sites "in line with the brand's heritage and DNA." It offers sleek photo and video shooting -- recently a project involving fashion photographer Nick Knight -- and a top sales service.
"Great attention to detail and a full understanding of each brand's needs are absolutely key elements to develop a successful online store," Yoox CEO Federico Marchetti said.
"Another very important aspect is customization: online stores must be tailor-made in order to be unique shopping destinations ... Thanks to all this, a brand's online store can be the real 'digital mirror' in which it can express itself and the brand's identity."
NEW CUSTOMERS
Marchetti said a "large portion" of the orders from Yoox's 18 mono-brand online stores came from cities where the brands have no or limited distribution.
"A new level of exclusivity exists by offering items previously available only in large metropolitan areas such as Tokyo, Paris and London."
Few fashion brands advertise online, preferring to do their marketing via social networking sites as well at their websites.
"The clients can go online and see what is hot. These sites captivate shoppers, they like them," Gianluca Brozzetti, CEO of Italian fashion house Roberto Cavalli, said.
Luxury online sales rose to 3.6 billion euros ($4.9 billion) last year and there is room for growth, consultancy Bain says.
However online stores should not be an exact replica of a boutique, Bain partner Claudia D'Arpizio said. "The site should have more entertainment, interaction, be less passive," she said. "It should keep the luxury feel but be less intimidating."
Of the different advertising platforms, the Web is expected to have grown 9.5 percent in 2009 followed by 12 to 13 percent annual growth through the next three years.
"From a communications point of view, the Internet represents the most effective, efficient and involving means to communicate with clients," Gucci Group CEO Robert Polet told Italian newspaper Il Sole 24 Ore, adding that in September, Gucci saw 2 million visitors enter its site.
"When you plan an advertising campaign, you buy a magazine page hoping that the one million people who will leaf through it, will focus on the image for five seconds, even though you know that probably many won't even see it," he said.
(Additional reporting by Antonella Ciancio, editing by Paul Casciato) ($1=.7369 Euro)
© Thomson Reuters 2023 All rights reserved.