Designer Anand Jon gets life for sex crimes
LOS ANGELES (Reuters) - Celebrity fashion designer Anand Jon was sentenced to a minimum of 59 years in prison on Monday 31 August for sexually assaulting aspiring models as young as 14, the Los Angeles County District Attorney's Office said.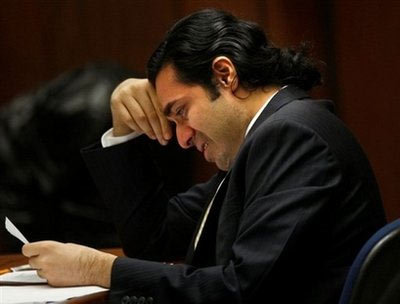 Anand Jon in court - Photo: AFP/Pool/Mark Boster
Jon, 35, who had dressed socialite Paris Hilton and singer Janet Jackson before his arrest in 2007, was last November found guilty of 16 counts, including rape, sexual battery and performing lewd acts on a child.
Los Angeles Superior Court Judge David Wesley sentenced Jon to 59 years to life after denying his motions for a new trial.
Prosecutors said the crimes started in 2001 when Jon set up a fashion design business through which he lured would-be models to Los Angeles. The police got involved in March 2007 after a woman said she was sexually assaulted at his Beverly Hills apartment.
Jon, whose full name is Anand Jon Alexander, denied the charges. His lawyers said the girls and young women were revenge seekers who had made up their stories or who had "invited what happened," and that there was little physical evidence.
The Indian-born designer was profiled on the TV show "America's Next Top Model" in 2003 and selected by Newsweek magazine as one of the world's most successful South Asians in 2004.
© Thomson Reuters 2023 All rights reserved.