Decision on Escada sale by end of the week
FRANKFURT, Nov 4 (Reuters) - Bidding for insolvent German luxury fashion house Escada (ESCG.DE) is in its final stages and a decision is expected by the end of this week, two sources familiar with the matter said on Wednesday 4 November.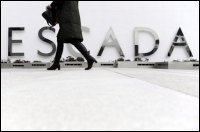 Photo: AFP
Three to four bidders were left in the process, a source close to the negotiations said, adding that concrete talks were only being held with three of them.
A decision could be made by the insolvency administrator any time before the end of the week, the source said.
One of the bidders is Sven Ley, son of Escada founder Wolfgang Ley. He said on Tuesday 3 November he had teamed up with the former head of Gucci, Giacomo Santucci, and Italian investment group Borletti to mount a rescue bid.
Megha Mittal, daughter-in-law of ArcelorMittal (ISPA.AS) Chief Executive Lakshmi Mittal, has also expressed an interest in Escada. A source close to the family told Reuters Mittal had made an offer.
Another source with knowledge of the matter said Los Angeles-based Oaktree Capital remained involved in the process and had spoken to the insolvency administrator, but it was so far unclear whether it would make a serious bid.
The crux of the bidding war is who will manage Escada in future.
The consortium around Ley has said it would replace the current CEO, Bruno Saelzer, with Santucci.
Mittal, on the other hand, supports Saelzer's approach of turning Escada into an affordable luxury fashion brand, offering more day-wear rather than the glamorous evening gowns Escada was once known for, the Mittal family source said.
Mittal would take a supervisory board seat, the source said.
Mittal has been looking for an investment in the fashion industry for about a year and has also expressed interest in Italian fashion brand Gianfranco Ferre (ITH.MI).
Escada said negotiations were continuing but declined to comment on individual bidders. (Reporting by Eva Kuehnen and Christian Kraemer in Germany, with Tom Freke in London; Editing by David Holmes)
© Thomson Reuters 2023 All rights reserved.