Dark colors reign in NY fall, winter 2010 fashions
By Ellen Wulfhorst
NEW YORK (Reuters) - Dominant colors in the coming fall and winter fashion season will be solemn grays, browns and plenty of black, reflecting a no-nonsense mood among consumers and designers struggling in the dismal economy, judging from collections unveiled this week in New York.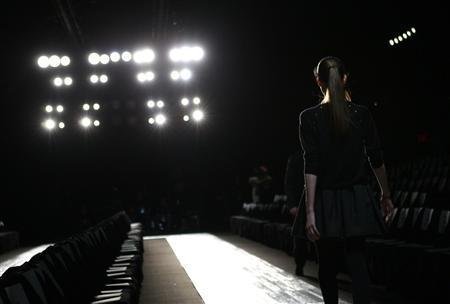 Just a few splashes of fruit, spice and jewel tones lit up otherwise dark collections from the scores of designers who displayed their fall and winter 2010 lines at the semi-annual fashion event.
Such dark tones are a sign of the times, said Marigay McKee, fashion and beauty director at Harrods.
"New York has been a monochromatic story for the last couple of seasons," she said. "Obviously the economic events of the last couple of years affect the way designers put together their collections and what customers are looking for."
Indeed, in the collection by designer Tony Cohen, showing in New York from the Netherlands, nearly every look was black. In styles by Luca Luca, gray dominated, and Canada's Mackage used mostly black, camel and deep blue.
"It's a gloomy season for the most part," said Judy Licht, who covers fashion for the Huffington Post. "I'm seeing a lot of black and neutral creams, navys and grays."
Designer Michael Angel used midnight blue, and Brazil's Iodice stuck largely to black and beige, with just a splash of tangerine.
PLAYING IT SAFE
"Black is the signature color," is how New York designer Nicole Miller described her line. "Also camouflage and hints of brick, olive and ash."
Designers are playing it safe with an emphasis on such dark hues, said James Aguilar, a spokesman for Prime Outlets which carries designer lines.
"Black always sells. The challenge there is you don't want to see a rack of just black clothes," he said. "Retailers are still going to have to get that item that pops and makes the collection come to life."
Using dark tones he called caramel, ochre, olive, putty, charcoal and mocha, designer Adam Lippes brightened his collection with splashes of crimson.
Donna Karan's DKNY line showed black, charcoal, umber and oxblood with accents of sapphire blue and peach.
Olive green and browns imbued with deep red and purple, are appealing, said Ken Downing, fashion director at Neiman Marcus.
"We think the customer's going to be very interested in this whole idea of these olive colors and these deep, deep browns as the new neutral for the season," Downing said.
Accent colors tended toward shades of berries, spices and sunsets. The Ports 1961 collection used colors labeled mulberry, rosemary, chicory, pepper, sage and ginger.
Colleen Sherin, fashion director of Saks Fifth Avenue, said she welcomed the accent colors to inspire consumers to spice up their wardrobes.
"Color elicits an emotional response in the consumer," she said.
(Additional reporting by Basmah Fahim in London and Michelle Nichols in New York; editing by Michelle Nichols and Mohammad Zargham)
© Thomson Reuters 2023 All rights reserved.