CVS to open Beauty 360 store; dozens more in '09
By Jessica Wohl
CHICAGO (Reuters) - CVS Caremark Corp hopes women will still treat themselves to little luxuries like a $15 lipstick, even as cosmetics makers feel the pinch of consumers cutting back.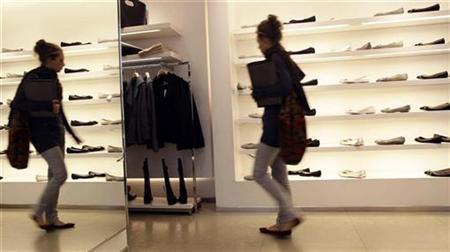 The drugstore chain is rolling out its first upscale Beauty 360 store in a new CVS in Washington, DC's Dupont Circle neighborhood on Monday.
A second Beauty 360 will open this year in California, leading to a total of about 50 stores next year as CVS tests the format. More stores could open beyond 2009.
While beauty stores within drugstores exist in other countries, including Shoppers Drug Mart in Canada, this marks the concept's debut in the United States, CVS said. The stores will face competition from the likes of dedicated beauty chains like LVMH's Sephora.
CVS is testing the format just as cosmetics powerhouses are starting to see women spend less on makeup in a weak economy.
Last week, Avon Products Inc's third-quarter profit missed expectations as North American sales fell, L'Oreal SA cut its full-year sales forecast and Estee Lauder pared its full-year outlook.
Meanwhile, Commerce Department data showed last week that U.S. consumers cut their spending for the first time in two years in September.
CVS executives say they have not yet seen such trends in existing stores, and expect women will continue to indulge in cosmetics even if they give up other purchases.
"It may not be a vacation, or it might not be the new dress, but you know what, the $15 lipstick might not have the same pinch to her that the rest of those higher priced ones do," said Mike Bloom, senior vice president of merchandising at CVS. "We have $40, $50, $60 skin-care items in our stores today and there's been no cutback in those at all that we can see."
Products at Beauty 360 will cost about $15 to $170. Customers looking to cut back on some of their spending can use CVS ExtraCare loyalty cards to get bonus "cash" for future purchases. They can also get rewards for free services.
Beauty 360 will offer manicures, facials and other services to differentiate itself from competitors.
The store will sell high-end brands such as Laura Geller, Canyon Ranch and Borba, and will not sell any of the mainstream beauty brands such as Maybelline, Cover Girl or Revlon typically found at CVS. Those items will be displayed on the wall that divides the drugstore from the beauty store.
CVS EXPANSION
Beauty 360 is a new focus for CVS, which has been rapidly expanding its healthcare operations, including a new low-cost generic drug plan and the 2007 acquisition of Caremark, a pharmacy benefits manager.
CVS said suppliers were intrigued by the concept, since Beauty 360 can draw shoppers in from the drugstore.
No brands are sold exclusively in Beauty 360 right now, but "that may happen down the road," said Cheryl Mahoney, vice president of beauty at CVS.
CVS has roughly 6,800 stores, and Bloom said the Beauty 360 concept could "easily" fit in 1,000 stores.
"There certainly could be" standalone stores, while the stores that are being planned right now are connected to CVS locations, Bloom said.
The next Beauty 360 store will open in Mission Viejo, California in early December. Bloom said CVS is focused on expanding in the U.S. West coast at this point, where it has bigger drugstores to work with, including the Longs Drug chain it bought last week.
It is also looking at areas with high-end clientele.
"If I think about the CVS in Walnut Creek, in northern California, where there is Chanel and Louis Vuitton and all of those other stores surrounding it, it is a perfect store for Beauty 360," Bloom said.
While CVS declined to say when it expects to turn a profit on the stores, beauty margins in general are higher than other margins in the drugstore business.
"All of this leads to a higher profit model, or a quicker return," Bloom said.
(Reporting by Jessica Wohl, editing by Richard Chang)
© Thomson Reuters 2022 All rights reserved.