CSC shareholders back board on Trafford deal
Jan 26 - Capital Shopping Centres (CSC), the UK's largest mall owner, said its shareholders had approved a deal to buy the Trafford Centre in Manchester and give Trafford's owner a nearly one-quarter stake in return.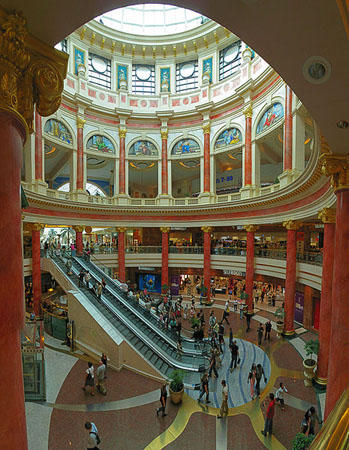 Inside the Trafford Centre, Manchester, England (photo by Jza84)
CSC had proposed issuing new shares to Trafford Centre's owner Peel Group and taking on the mall's existing debt as part of the deal, giving Peel's UK billionaire owner John Whittaker a 23.2 percent CSC stake and a seat on its board.
"We are glad to welcome John Whittaker to the Board as Deputy Chairman and look forward to the contribution of his considerable expertise to the Board," CSC Chairman Patrick Burgess said in a statement on Wednesday.
CSC said investors holding 72 percent of its issued shares voted, with 80 percent of them backing the deal.
U.S. mall owner Simon Property, which earlier this month dropped a CSC takeover bid aimed at blocking the Trafford deal, said after the results were announced that it continued to have concerns about the deal's financial terms.
"For as long as Simon maintains an investment in CSC, it will closely track the progress of CSC's board and management team towards achieving the aggressive valuation targets they have recently established," said Simon, which has a 5.1 percent stake in CSC.
(Reporting by Daryl Loo; Editing by Karen Foster)
© Thomson Reuters 2021 All rights reserved.