Crunch could be a plus for Russian luxury: Simachev
By Amie Ferris-Rotman MOSCOW (Reuters Life!) - As Russia is hit hard by the financial crisis, now is the time to spend lavishly, says Muscovite fashion designer Denis Simachev. Standing in his cube-shaped store jutting out between two European luxury houses on a pedestrian street in the Russian capital, Simachev neatly encapsulates the Russian consumer's tendency to spend exorbitantly in times of turmoil. Sales of Simachev's collections, which include cotton t-shirts with prints of prime minister Vladimir Putin at 10,000 rubles ($400) each, remain brisk.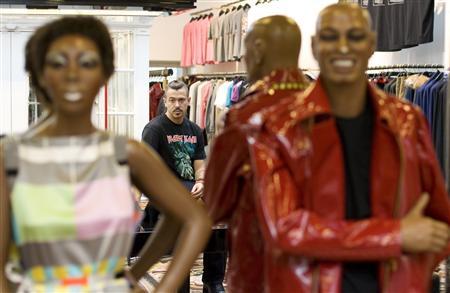 Yet Russia's markets this month have been struck by the biggest lows since a financial crisis in the summer of 1998. Last week trading at Moscow's two main stock markets closed for two days to stem enormous losses. Simachev's clothes, ranging from green paisley tailored dresses to 17,000-euro ($24,930) coyote fur coats, are sold around the world in larger stores but his Moscow boutique, housed in thick plastic walls with frayed rugs on the floors, is so far his only shop.
Simachev believes the current credit and confidence crisis could boost business. "It will even create pluses, especially in this season," Simachev told Reuters in an interview in his boutique, which holds a bar and restaurant on the ground level and an airy space above where the clothes are sold. Memories of the ruble's collapse during the 1998 crisis urge many Russians to spend money now rather than risk another devaluation of their currency in the future.
The interest rates on Russian bank accounts, which can rarely keep Russia's double-digit inflation at bay, often encourages the proclivity to spend. "With the crisis going on, what it (luxury) will be like in half a year is anyone's guess. But Russia has always been famous for its generous soul," said a tattooed Simachev, sporting an 'Iron Maiden' t-shirt and a tied-up mohawk of thick black hair.
The Russian love affair with luxury, which some homegrown designers say harks back to the time of the Czar and is buoyed by 10 years of growth on the back of high commodities and energy prices, could help Simachev expand his empire. The 34 year-old, who set up his business in 2001, will open shops in more Russian cities next year and in the Ukrainian Black Sea port of Odessa. He will also expand into designing cars for the Russian market. "Luxury in Russia is probably at its peak in popularity right now," said 34-year-old Simachev, standing next to a pair of suede high heels that, like all his collections, were made in Italy and bear a price tag of 700 euros.
Though Simachev refuses to reveal either his profits or revenues, industry insiders have said worldwide revenues this year will be over $20 million. He also has 50 proposals to open new stores, from London to China to the United States, and plans to open several by 2010, as well as launch a yacht line, following the world's largest luxury goods maker LVMH, which entered the yacht market earlier this month.
RUSSIAN SOUL
Last year the Russian market accounted for four percent of global luxury spending, which LVMH Chairman Bernard Arnault has put at 150 billion euros, and its allure is growing. British luxury brand Burberry sits on one side of Simachev's store, with Paris-based Hermes on the other. Brightly lit letters from British lingerie retailer Agent Provocateur's emblematic sign shine from behind Simachev's back kitchen door.
Simachev is the only Russian retailer on the cobbled 18th century street, whose pastel-colored low-rise buildings house dozens of European luxury houses. He refuses to show his collections at Moscow Fashion Week, unlike his contemporaries Igor Chapurin and Valentin Yudashkin, instead opting for Milan and Paris. "My sales do very well in the West because it is interesting for people to know what is happening in Russia... it has a Russian soul," he said. "I will make things a bit more spicy in the future and as far away as possible from our Western colleagues. I want to do something Russian, heartfelt, honest." (Reporting by Amie Ferris-Rotman, editing by Paul Casciato)
© Thomson Reuters 2023 All rights reserved.