Crisis? What crisis? Paris haute couture thinks big
By Sophie Hardach
PARIS (Reuters) - Dramatic blood-red gowns on the catwalk, billowing fur coats in the audience: at the haute couture shows in Paris on Monday the super-rich defied the economic crisis in extravagant style.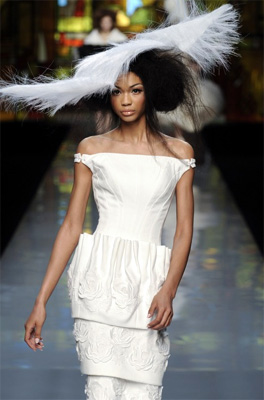 Dior haute couture spring-summer 2009
Luxury executives have cut costs and jobs due to falling sales, but the message of new modesty has yet to reach the jet-setting crowd admiring wasp-waisted sunshine yellow and pale blue dresses at Dior and tasselled suits at Armani Prive.
Designers must meet a strict set of criteria to enter the exclusive club of haute couture, which has just admitted a new, 12th member -- Stephane Rolland.
"Haute couture is unique," said Ellen Olivier de Vezin, a former public relations executive who came from California to see Rolland's show of geometric black, white and red dresses.
"The skills that go into haute couture are disappearing and it's a privilege to buy these clothes," she added.
The select few who nabbed front row seats at the Dior show echoed that love of craftsmanship and fine material.
Tottering across the cobblestone courtyard at the Musee Rodin where the show was held, they challenged the global downturn with big hair, big furs and big sunglasses.
"Sometimes I get surprised, you hear there is a crisis but you still see people shopping," said a Jordanian Dior client, queuing in front of the sun-streaked facade of the museum.
"When you want something exclusive, you have to go to haute couture. My daughter is getting married and I want a dress specially made for her -- and for myself, and sisters and family," said the client, who did not want to be named.
FEWER MODELS
However, there were fewer models than usual in the show, a sign that even the very top, where dresses can easily cost upwards of 30,000 euros (28,207 pounds), is perhaps feeling the economic chill.
Luxury brands tend to lose money or just about break even on their haute couture collections. But the celebrity-studded shows and flamboyant gowns generate buzz and priceless advertising for more affordable products, such as perfumes and accessories.
Armani Prive gave a nod to new markets with Chinese-inspired red tassels on purple and silver dresses and jackets. Up-turned cuffs and hems peaked skywards like the roofs of Chinese pagodas.
"If you react to the crisis, you can't produce high fashion," Italian designer Giorgio Armani told Reuters after the show. "High fashion is like watching a beautiful film, it belongs to a different world."
Dior designer John Galliano was just as happy to take a holiday from reality.
His pink and red silk gowns with tight bodices exploded into voluminous silk and floral-print skirts and would not have looked out of place at a garden party thrown by Marie Antoinette. A soundtrack of chansons by First Lady Carla Bruni-Sarkozy rounded off the carefree mood.
"The theatrics speak to me as a showgirl," burlesque dancer Dita von Teese told Reuters after the show. "It is good to know there are other people who appreciate this kind of thing -- beading, rhinestone, feathers."
© Thomson Reuters 2023 All rights reserved.