Crisis lesson for Paris fashion: sex sells
By Sophie Hardach

PARIS (Reuters Life!) - If you've got it, flaunt it and sell it: that was the message at Paris fashion week as collections teemed with lacy stockings, bra straps and exposed knickers.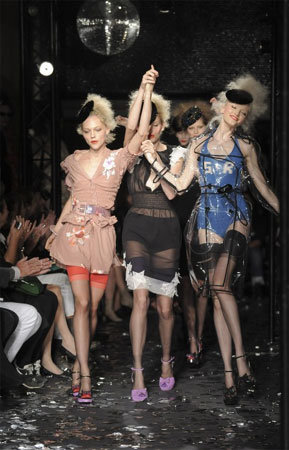 Photo: Pixel Formula
Garter belts -- real, worked into dresses or painted onto skin -- featured heavily at Sonia Rykiel, Jean-Paul Gaultier, Christian Dior and Chanel.
At Chanel, designer Karl Lagerfeld mixed innocent white folk dresses with tattoo-like garters and high-cut knickers in a countryside romp, complete with models canoodling in a haystack.
"I'm completely with it," Russian model Natalia Vodianova said of the lingerie trend. "A woman has to be elegant and not wear it in a vulgar way."
Presenting her new lingerie line for retailer Etam, Vodianova told reporters she felt inspired by women who showed a glimpse of their underwear or exposed their bra straps.
The Milan collections featured so many skimpy dresses that fashion critics dubbed the overarching theme "Viva la Bimbo".
Micro-dresses also abounded in Paris for spring/summer 2010, with Lagerfeld inserting slits into already tiny skirts at Chanel. Dior showed sleek negligee dresses and high-waisted French knickers, evoking the boudoirs of 1950s film stars.
Summing up the sexy mood, Gaultier named his collection "G-Spot" and dug into his archives for a provocatively half-dressed look, reviving the conical satin bra he once created for pop star Madonna.
"I wanted to go back to the street, in contrast to this kind of political correctness, this total gentrification of fashion," Gaultier said backstage after his show on Saturday 3 October.
At Alexander McQueen, super-short dresses in bold rust, blue and green were intricately folded into origami skirts.
Shelly Musselman, co-proprietor of the Forty Five Ten boutique in Dallas, was not surprised by the seductive trend.
"Women want to look that way -- and the husbands who pay for the clothes want them to look that way!" she told Reuters after the Alexander McQueen show.
(Additional reporting by Marie-Louise Gumuchian, Mathilde Gardin and Claire Watson; editing by David Stamp)
© Thomson Reuters 2023 All rights reserved.