Crisis gives high-end retail industry a makeover
By Martinne Geller
NEW YORK (Reuters) - Fashion and retail executives are adding new ingredients like extensive customer data and streamlined websites to their marketing mix to get consumers to buy in the recession.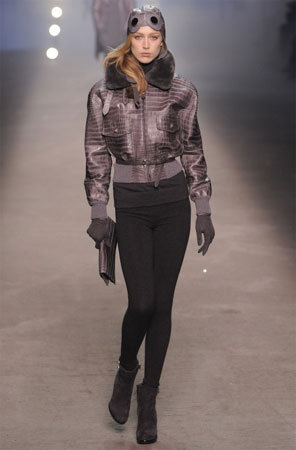 Hermès Autumn-Winter 2009/2010
Yet the tried and true remain in the recipe, with an emphasis on quality and strategies such as holding back supply, said executives at the Reuters Global Luxury and Retail Summits this week.
"We are able to invest any amount to be able to produce something that is outstanding, that is our strategy," Hermes (HRMS.PA) Chief Executive Patrick Thomas said, adding that the key to the crisis was to remain focused on the long term.
"My financial strategy is making sure my grandchildren are proud of me," he said.
Swiss watchmaker Hublot said its secret was to under-supply distributors.
"Never deliver what people need," said its chief executive, Jean-Claude Biver. "Only give them half. You have to keep them hungry."
Yet in a shift from the old model of luxury goods makers being dominated by their creative genius founders, some are warming up to the moves used by their lower-tier peers, said Milton Pedraza, chief executive of the Luxury Institute, a research organization that studies the luxury industry.
"This severe downturn really has been a catalyst for opening luxury executives' minds from the Victorian age now into the 21st century," Pedraza said. "What we're seeing is ... using the collective wisdom of your team, using the collective wisdom of your customers to drive and to help the creative genius."
Saks Inc (SKS.N) has embraced this approach, and Pedraza said it is paying off by allowing the luxury department store operator to suggest a light blue shirt to a customer it knows just bought a navy blue suit, for example.
Saks Chief Executive Steve Sadove said the company is speaking to customers and found out they are looking for a wider array of price points and better customer service.
"We have actually interviewed over 3,000 of them in terms of their mindset right now and how they are feeling ... and I think we have learned quite a lot that has implications for both the '09 holiday season and beyond," Sadove said.
Saks is working harder to share that data with vendors and to localize its marketing, he said.
TINKERING AND TWEAKING
Aside from continuing to invest in its Nine West loyalty program, Jones Apparel Group Inc (JNY.N) is broadening its array of casual shoes and enhancing its website.
Milton Pedraza said many high-end brands were now making their websites more streamlined and easy to navigate.
"They're foregoing all the flash they used to put in front of their websites because it was like a 6-foot brick wall on the left lane of the Autobahn," Pedraza said. "It took a while for the creative people to get that consumers want to get in and get out."
Italian jewelry designer Roberto Coin launched a Capri Plus collection, offering pieces with identical designs but varying materials and price tags ranging from $2,500 to $50,000.
"We are saying, 'put all five different price points (in the window) now ... and let (customers) decide which price they feel comfortable with," Coin said.
Liz Claiborne Inc (LIZ.N) is offering more lower-priced items at its Juicy Couture, Lucky Brand and Kate Spade brands and in some cases adding more basic designs to attract value-conscious consumers.
Yet for some, it is old-fashioned creativity that is guiding them through the retail storm.
"Over the last year or so I have just been feeling very inspired and creative," said Jonathan Adler, who designs home decor pieces that are sold at Barneys New York and Neiman Marcus NMRCUS.UL in addition to his own boutiques.
"Complacency is sort of the enemy of growth and a lot of businesses have grown complacent. So I think that this economic climate is a great climate to breed creativity."
(Reporting by Martinne Geller; Additional reporting by Astrid Wendlandt in Paris and Marie-Louise Gumuchian in London; Editing by Richard Chang)
© Thomson Reuters 2023 All rights reserved.