Coutts London Jewellery Week showcases design
By David Brough
LONDON (Reuters Life!) - Leading British jewelers and retailers braved a public transport strike to admire the latest platinum jewelry designs at a chic party hosted by Platinum Guild International on the evening of Wednesday 10 June.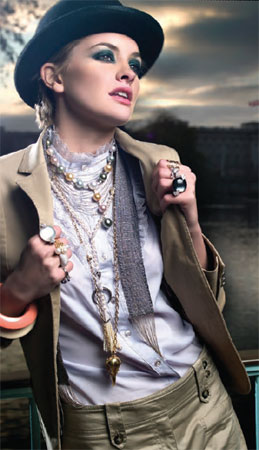 London Fashion Week
The soiree in trendy Covent Garden was one of the leading events at the June 8-14 Coutts London Jewelry Week, where the champagne flowed in heavily guarded rooms decorated in white, as VIP guests scrutinized cutting-edge platinum designs.
They included a flowing necklace and bangle from the "Riverdance" collection, evoking the life-force from a river, created by Indian luxury jeweler Ganjam, as well as a host of premier Italian brands.
"Coutts London Jewelry Week is again an outstanding showcase for the industry's talents," said guest Jayant Raniga from British-Asian retail jeweler PureJewels, located in the up-and-coming Green Street jewelry quarter of east London.
As Coutts London Jewelry Week kicked off on Monday 8 June, British jeweler Shaun Leane presented three chunky resin bangles as his 10th anniversary special edition pieces at the Wonder Room in the Selfridges department store in west London.
Across town, in a discreet terraced side street off the Edgeware Road, online retailer Astley Clarke displayed a new collection by fashion designer Osman Yousefzada.
Yousefzada, known for contemporary colors and futuristic cuts on the catwalk, presented four limited-edition pieces.
Throughout the week, 100 events were set to take place from north to south, east and west of London.
From a family-friendly festival in the diamond jewelry district of Hatton Garden in east London to glittering catwalk shows, the event has gathered some of the biggest names in the industry and the finest emerging talent for a second year.
Organized by the City Fringe Partnership with funding from the London Development Agency and sponsored by private bank Coutts & Co, the week has put the spotlight on new designers as well as established brands.
Visitors were encouraged to take the star treatment by walking the bespoke Swarovski crystal-studded carpet at the Burlington Arcade on Piccadilly in central London.
Hatton Garden geared up for a hive of jewelry-related activity, including street demonstrations, children's activities, musicians and costumed actors, a food market and workshops, talks and behind-the-scenes tours.
The Elizabeth Street Carnival on Wednesday 10 June highlighted some of the biggest jewelry names in the elegant Belgravia district, such as Erickson Beamon.
Visitors can also discover Treasure, an exhibition of over 60 of Britain's contemporary jewelry designers which returns for a three-day showcase at The Flower Cellars, Covent Garden.
Open to the public between June 12 and 14, Treasure celebrates innovative jewelry design, displaying pieces made using the latest technology and unusual materials, alongside those who engage in ethical and sustainable work practices.
Auctioneers Bonhams are dedicating June to jewelry, and opened their doors with a jewelry valuation campaign.
(Reporting by David Brough; editing by Paul Casciato)
© Thomson Reuters 2023 All rights reserved.