Cotton is at a record high and workers push for higher minimum wages
Nov 24 - Cotton is at a record high and workers in countries such as Bangladesh and China, major suppliers to the West, won bumper wage increases after strikes and political pressure -- a double hit for retailers reliant on price-conscious European shoppers.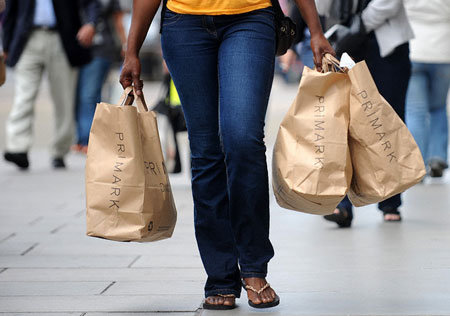 Surging cotton prices could affect giants such as Primark
Those input costs will affect firms across the region, from giants such as Inditex and Hennes & Mauritz to smaller firms such as Primark, although the manner in which they are pushed through -- or not -- will vary, said analysts.
"Pressure is coming from raw materials and labour costs, particularly those in emerging markets," Matthias Born, an RCM fund manager at Allianz Global Investors, said.
Those sectors unable to tap into emerging markets growth end up losers because they "ultimately have margin squeeze," said Mislav Matejka, equity strategist at JP Morgan, citing firms where "a significant proportion of the cost of goods sold is exposed to cotton or other commodity prices."
LABOUR PAINS
"For 20 years, clothes prices have come down and the volume was there. Now, with a relatively weak consumer environment and difficult labour market, they may need to reduce margins to protect market share," he added.
That wage pressure was seen in low-single-digit rises in state-owned Chinese firms, 5-10 percent in some German-owned firms and double-digit rises at outsourcing sites that produce IT or apparel for western firms, Born said.
Wage awards differ from factory to factory, but rises of 9 percent to 10 percent a year are expected over the next two years, a garment factory manager in Guangdong, China, told Reuters on condition of anonymity.
While Chinese workers have been particularly active in pushing for higher minimum wages in 2010, with support from Beijing, the pressure has spilt into other clothes-producing centres such as Bangladesh and Cambodia.
Workers in Cambodia walked out in September over their demands for a 50 percent rise in basic pay, while Dhaka nearly doubled the Bangladesh minimum wage, although from a much lower base than for workers in China.
That wage pressure comes on top of a surging cotton price which has risen 70 percent this year and recently hit a record high on trade and fund buying, with further pressure from Chinese demand seen next year.
NO MARGIN FOR ERROR
Adding to retailer woes is the subdued economic outlook in Europe. Recent euro zone data showed economic growth of 0.4 percent in the third quarter, against 0.8 percent in Britain and 9.6 percent in China.
Higher input costs do not equate to margin squeeze, if they are passed on. But with consumers more price conscious -- UK CPI rose to 3.5 percent in October -- firms may decide to take a margin hit to preserve market share.
© Thomson Reuters 2023 All rights reserved.