China to help watch stocks tick higher in 2011
Dec 21 - Swiss watchmaker stocks will be a key investment for those seeking to ride the roaring Chinese consumer boom expected in 2011 and shelter from prevailing economic headwinds in the West.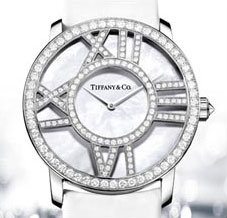 Tiffany & Co., one of the luxury watch brands owned by the Swatch Group
High exposure to China should allow Swatch Group and Richemont shares to add to gains of some 60 percent this year, a performance that topped the Swiss Market Index.
About 30 percent of Swatch Group sales are in mainland China while for Richemont the proportion is more than a quarter, ahead of any other consumer company, Kepler Capital Markets analyst Jon Cox said.
Luxury goods stocks have more than tripled in value over the last two years as the industry recovered from its worst slump in decades, and are trading far above the previous records hit in the boom year of 2007.
"Luxury goods will continue to grow, they will represent one of the very few areas where you have growth at a time where the macroeconomic development is subdued and prospects for growth remain lacklustre," Bernstein analyst Luca Solca said.
"You could end up with an environment where a very few stocks will enjoy very high multiples because they are seen as the ones providing growth," he said.
Luxury goods stocks have never been cheap and are now trading at a 65 percent premium to the rest of the market, up from around 30 percent, Anne Leborgne, luxury strategy fund manager at Amundi.
But Swatch Group and Richemont are still trailing the rest of the industry at around 19-20 times 12-month earnings, making them look more attractive than, for example, Hermes and Burberry, which have been boosted by takeover talk following LVMH's recent swoop on Hermes.
This year multiples in the sector have been largely stable as earnings estimates for 2011 have also gone up 40 percent, Leborgne said, adding that she would use any weakening in Swatch Group, Richemont or LVMH to strengthen her positions.
CHINESE CONSUME
Bernstein's Solca has Swatch Group as his top pick and its strong operating leverage as well as its presence in the entry and mid-price categories, popular in China, should allow it to surprise markets with more strong earnings next year.
The companies behind products ranging from Cartier jewelry and Louis Vuitton handbags to Omega watches already boast strong operating margins and a growing presence in China offers further upside to profitability.
Companies operating in China benefit from lower wages for their sales teams and store rents overall are cheaper while retail prices for luxury goods are about 30 percent higher than in Europe, Amundi's Leborgne said.
Sales in the West are also being boosted by ever more Chinese consumers traveling to Europe for shopping trips, an alternative to Hong Kong for those seeking to avoid China's steep import taxes.
France and Italy are the most popular European destinations for Chinese luxury consumers in search of a joint tourism and shopping experience, said Jean-Michel Dumont, chairman of the Asian branch of public relations firm Ruder Finn.
"Chinese consumers are very pragmatic regarding the prices of products. With the tax refund in Europe, they can get the product pretty much at the same price as in Hong Kong but in Europe they can mix it with the tourism experience," he said.
An increasing number are coming to take in the Swiss Alpine scenery and bring home a new timepiece. Recent data showed the number of nights spent by mainland Chinese tourists in Switzerland rose 63 percent during this summer.
The Chinese are also starting to splash out more on each trip, UBS analyst Eva Quiroga said in a recent study.
CHRISTMAS CHEER
Demand has also picked up in the West as shoppers snap up Swiss watches to give to loved ones this Christmas, putting aside lingering worries about the economic outlook for the United States and Europe.
"On Black Friday, we saw that the high-end consumers are spending again which is a surprise and a positive sign for the luxury industry," Scilla Huang Sun, portfolio manager of Julius Baer's luxury brands fund.
Richemont and Swatch Group remain long-term core holdings in the fund with their strong brands giving them a unique position in the sector, she said.
Swiss watch exports rose 30 percent in November despite a less favorable base effect, with the biggest market, Hong Kong, soaring more than 70 percent and the United States also up 18 percent.

By Silke Koltrowitz and Nathalie Olof-Ors
(Editing by David Cowell)
© Thomson Reuters 2023 All rights reserved.