China's Metersbonwe rises 34 pct in market debut
SHANGHAI, Aug 28 (Reuters) - Shares in Shanghai Metersbonwe Fashion & Accessories Co 002269.SZ, the first major fashion retailer to list in China, rose 34 percent in their market debut on Thursday August 28th, at the low end of analysts' forecasts due in part to a weak stock market.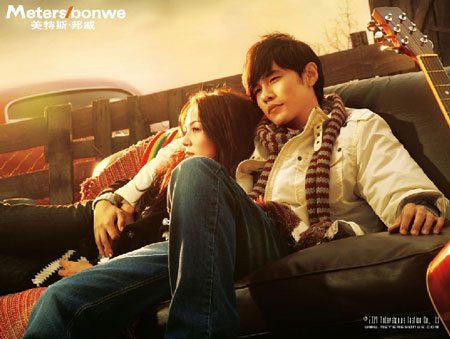 Metersbonwe campaign
Metersbonwe, whose rivals include Giordano International Ltd and Esprit Holdings Ltd in one of the world's fastest growing fashion markets, raised 1.38 billion yuan ($202 million) by issuing 70 million domestic A shares, or 10 percent of its expanded share capital.
Its initial public offering attracted massive subscriptions of more than 1 trillion yuan, as investors flocked to the relative safety of the primary stock market while the secondary market is slumping.
China's highly fragmented casual wear market has attracted more than a dozen major foreign brands, including Gap Inc and Sweden's H&M . Fashion retailer Zara, owned by Spain's Inditex , has also been adding new stores in major Chinese cities.
Metersbonwe's local-currency A shares were at 26.50 yuan on the Shenzhen Stock Exchange in early afternoon trade, compared with the IPO price of 19.76 yuan.
Analysts had forecast a trading range of 26 to 30 yuan for Metersbonwe's shares on the first day, partly citing the slumping stock market. While a 36 percent rise is healthy by international standards, it is not unusual for Chinese IPOs to double or triple in price on their first day of trade.
China's benchmark stock index .SSEC has plunged 62 percent from its peak last October, hit by a slew of negative factors including worries over a slowing economy and corporate earnings.
Shanghai-based Metersbonwe, which has a 0.95 percent market share in China's fashion retail sector, has said it would use the proceeds to expand production and its network of stores.
Metersbonwe, founded 12 years ago, operates about 2,000 stores nationwide that sell casual clothing targeted at 18- to 25-year-olds. ($1=6.83 Yuan) (Reporting by Lu Jianxin; Editing by Edmund Klamann)
© Thomson Reuters 2023 All rights reserved.