China brands need Olympian leap for global glory
By Joseph Chaney and Rhee So-eui - Analysis
HONG KONG/SEOUL (Reuters) - They thought the Olympics would be a sprint to glory but, for Chinese brands, worldwide recognition is turning out to be a marathon.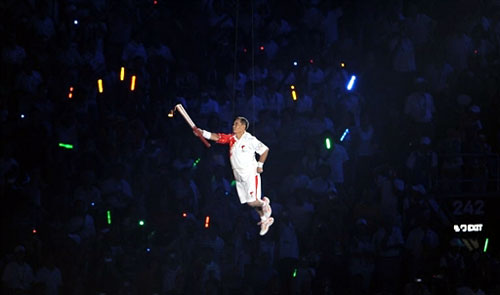 Li Ning - Photo : Filippo Monteforte/AFP
The Games could be a launchpad, as they were for Japanese and South Korean companies, but it could takes years for China's firms to overcome negative images associated with their country.
Despite years of brand-building hype in the lead-up to the Beijing Olympics, China's top PC maker Lenovo is still the only Chinese "worldwide" partner for the event. Buying IBM's PC division for $1.25 billion in 2005 to fight toe-to-toe with Dell and Hewlett-Packard certainly helped.
For other Chinese hopefuls, global brand recognition -- being a household name or commanding trendsetting power in developed countries -- is still a long uphill slog.
Branding experts argue China's reputation for cheap goods, product scandals and its controversial political positions on issues such as Tibet are a big hindrance.
"There tend to be associations between a brand and a country," said Jonathan Chajet, Asia-Pacific strategy director at consultants Interbrand. "The challenge for a Chinese brand trying to go global is not really positioning itself, but actually to position China well."
Still, some optimistic investors hope a superstar will be made overnight.
Former Chinese gymnast Li Ning was $30 million richer on Monday when shares in his namesake sportswear company Li Ning Co Ltd jumped 5 percent thanks to his starring role at the Olympics opening ceremony.
Investors snapped up shares hoping global recognition would follow rave reviews of the extravaganza of thundering drums and exploding firecrackers, which ended when Li simulated a race in mid-air to set the giant Olympic cauldron ablaze.
Li Ning aims to be one of the world's top five sports brands by 2018 and is kitting out the Olympic teams from China, Spain and Sweden. But it is still in third place in its home market, behind both Nike and Adidas , with just over 10 percent market share, according to ZOU Marketing.
"I think it actually has more to do with hype," Germaine Khong, an analyst at broker CIMB, said of the share price surge. "There's a risk of over-expansion in the Chinese sportswear market, but Li Ning is the short-term beneficiary of the Olympics."
SEOUL AND TOKYO
Analysts say the 1988 Seoul Olympics and 1964 Tokyo Olympics brought credibility to Korean and Japanese brands, eventually helping Honda , Sony and Samsung become big global brands.
Samsung, which began as a fruit and fish vendor in the 1930s, has been an official Olympic sponsor since the 1998 Winter Games.
"Sponsors need to have a clear long-term strategy, looking well beyond the actual Games," said Lee Gun-hee, a professor in sports and leisure at Kwandong University, South Korea.
"You won't get your brands known overnight and the benefit from the Olympics market is to be seen over a long period."
Some Chinese executives have all but given up on beating global household names, and play down the Olympics.
"The Olympics will only grow our turnover by 1-2 percent this year," Qin Dazhong, CEO of fashion sportswear firm China Dongxiang told Reuters.
Dongxiang is not an Olympics sponsor and sells Italy's Kappa sportswear brand, the No.3 "international" brand behind Nike and Adidas in China.
"There's no way we can catch up with Adidas and Nike, but we're not trying to," Qin added.
But there are a few notable names among China's "domestic" Olympic sponsors. Appliance maker Qingdao Haier was named by General Electric CEO Jeff Immelt in May as one of the firms seeking to buy GE's appliance business.
And brewer Tsingtao sells its beer in more than 50 countries, although it plays second fiddle in China's mass market to domestic brand CR Snow .
BUSINESS-TO-BUSINESS
Investors still eager to bet on the dream of global Chinese brands should focus on tech, automotive and, above all, the business-to-business segment, experts say.
"Where I think you're much more likely to see some more successful brands is not so much the consumer side, but the business-to-business side," said Chajet.
"They're companies that are quite healthy financially and making acquisitions overseas," he added, giving telecom solutions provider Huawei Technologies HWT.UL as an example.
Huawei -- whose fast-growing mobile devices unit doubled revenues last year to more than $2 billion -- has been targeting mature markets where it competes directly with global giants such as Ericsson and Alcatel-Lucent .
In early July, Bain Capital, Goldman Sach's private equity group, Kohlberg Kravis Roberts & Co KKR.UL and Silver Lake made it through the first round of bidding for a stake in Huawei.
(Editing by Ian Geoghegan)
© Thomson Reuters 2023 All rights reserved.