Catwalk queen Prada nears Hong Kong IPO decision
Jan 27 - The board of Prada, one of the world's best-known fashion names, decides on Thursday on a long-awaited initial public offering in Hong Kong, which would make it a trailblazer for the European fashion industry.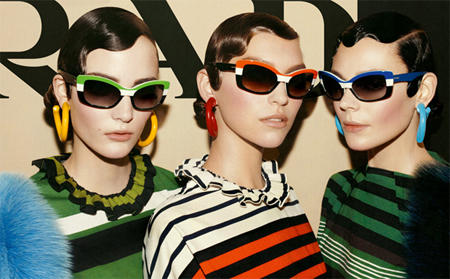 Prada's advertising campaign for S/S 2011
The owner of Miu Miu, Church's and Car Shoe brands aims to use the Hong Kong listing to trim debt of around 1 billion euros ($1.3 billion). The IPO would also fund growth in Asia, where Prada expects its sales to overtake those in Europe over the next three years.
Analysts estimate Prada -- known for its innovative fabrics and unconventional styles -- could aim to raise 1.2 billion euros by selling a third of its shares at a multiple of 10 times its projected 2010 core earnings.
Prada could be worth from 5 billion euros to 6 billion euros overall in favourable market conditions, analysts say.
Prada has scrapped a share offering at least three times due to volatile markets and would be the first European fashion house to list on the Hong Kong bourse. No Italian company is traded in Hong Kong.
The 98-year-old family-run company, whose trend-setter designer Miuccia Prada has gone from being a 1970s leftist to one of Europe's most prominent businesswomen, could encourage other luxury goods companies to go public.
The 60-billion-euro Italian sector is under-represented on the stock market. Fashion houses such as Ferragamo and Moncler have said they might float when markets recover.
A listing could involve the issue of new shares, analysts said. Hong Kong bourse guidelines also require management changes, including two executive administrators based in Hong Kong and three independent administrators.
Prada SpA is 95 percent owned by the families of Chief Executive Patrizio Bertelli and his wife Miuccia. Italian bank Intesa Sanpaolo owns the rest. Among the banks mentioned as bookrunners are UniCredit, Intesa Sanpaolo -- both sitting on the company's board -- Goldman Sachs Group Inc and brokerage firm CLSA, a Hong Kong division of Credit Agricole Securities, according to sources close to the issue.
When Prada delayed its latest IPO attempt in 2008, some speculated it could not float at all. It has also turned down approaches from private equity firms.
By Antonella Ciancio
(Reporting by Antonella Ciancio; Editing by Will Waterman)
© Thomson Reuters 2023 All rights reserved.