Castle to host fashion 'sculptures'
(ANSA) - Rome, August 4 - A selection of Roberto Capucci's legendary 'fabric sculptures', exploring the fashion maestro's creations in his 60-year career, will soon grace the halls of the lakeside Odescalchi Castle at Bracciano, near Rome. The 15th century castle, which provided the fairy-tale setting for Tom Cruise's wedding to Katie Holmes in 2006, is owned by one of Capucci's most loyal clients, Princess Maria Pace Odescalchi, from one of Italy's most ancient noble families.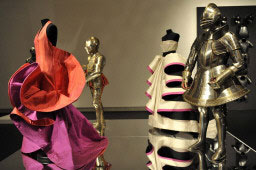 A show of Capucci's designs at the Tinguely Museum in Basel, Switzerland - Photo: Ansa
The 66 outfits and 25 costume designs will be artfully displayed in the castle's public halls, amid medieval armour and tapestries, in a ballroom-like scenario, the princess said at the event's presentation recently. All the creations, including seven bridal gowns and an outfit worn by Nobel medicine laureate Rita Levi Montalcini at the 1986 award ceremony, were personally chosen by the 79-year-old designer.
The show, entitled 'Royal Elegance: Roberto Capucci at Castello Odescalchi at Bracciano', will run from September 17 through December 13.
CAPUCCI'S CREATIONS HAVE APPEARED IN MANY MUSEUMS.
Many of the 66 outfits featured have appeared in galleries around the world.
The stylist's personal collection of 600 creations, 300 colour illustrations and 22,000 sketches are permanently housed in a new museum devoted entirely to his work in Florence, where his work first came to international notice at a fashion show in 1951.
Housed in the 17th-century complex of Villa Bardini, overlooking the Ponte Vecchio in the heart of Florence, the museum showcases the vast archive collected by the Roberto Capucci Foundation over more than half a century.
The Florence museum and itinerant shows, including at Moscow's prestigious Pushkin Museum, tell the story of the designer who elevated fashion into art.
In fact, from the time of his earliest creations, Capucci's origami-like designs have been closer to elaborate works of sculpture than clothing.
He has dressed film stars, first ladies and royalty over the decades but the wearers have usually showcased his creations rather than the other way round.
Marilyn Monroe, Jacqueline Kennedy, Gloria Swanson and scores of noblewomen have all worn his outfits.
Capucci has cheerfully admitted that his works are not intended as everyday contributions to women's wardrobes.
''Frankly, I have never let myself be influenced by the idea of 'but when will I wear this, where will I go?','' he once remarked.
''There would be no history of fashion if people had thought like that in past centuries''.
Capucci was considered something of a wunderkind in the fashion world in the 1950s, breaking onto the international scene at the age of just 21 in 1951.
He had already opened an atelier on Rome's Via Sistina the previous year, in 1950, when his work was spotted by fashion entrepreneur Giovan Battista Giorgini, who invited him to display five outfits at a Florence show.
The other designers in the show demanded Capucci's elaborate creations be withdrawn, fearing their own work would be upstaged.
But when the press found out, they called for a separate showing of Capucci's designs, which were greeted with instant acclaim.
Since then, Capucci's work has appeared in galleries in Munich, London, Vienna, New York and various Italian cities.
Copyright © 2023 ANSA. All rights reserved.