Capital Shopping sees mall space demand rising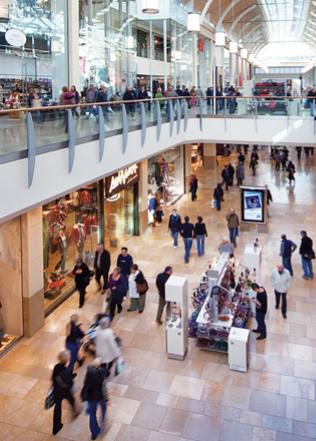 Capital-Shopping-Centres.co.uk
LONDON, Nov 3 (Reuters) - Capital Shopping Centres (CSCG.L), the UK's largest mall owner, saw a "discernible improvement" in demand for its properties, notably from retailers chasing a short supply of larger shop units, it said on Wednesday.
"The impact of the reduced supply of new high quality retail space is increasingly apparent in letting negotiations," Chief Executive David Fischel said in a trading update.
Occupancy at CSC's established centres is 98.8 percent.
While CSC reported footfall remains strong, rising 3 percent year on year in the third quarter, Nomura analysts said this did not capture the impact of the Comprehensive Spending Review announced by the UK government last month. [ID:nLDE69J1VZ]
"It will be interesting to see how they fare if fiscal austerity measures cause a retrenchment in consumer sentiment. We expect a preliminary impact to come through by the time the group reports its FY10 results in February 2011," Nomura analysts Robert Duncan and Mike Prew said in a client note.
By 0900 GMT, CSC shares were down 0.6 percent, roughly in line with the 0.1 percent drop in the broader UK property stocks index .FTELUK.
CSC, which owns 13 shopping centres in the UK totaling 13.8 million square feet, said it had agreed to 104 new lettings since June 30, equating to 3.5 million pounds ($5.6 million) rise in annual passing rent.
British consumer confidence unexpectedly improved in October as people grew less nervous about their own finances despite a gloomy economic outlook. October retail sales grew robustly, two surveys showed last week.
MALL EXTENSIONS

CSC said it was planning to grow organically in its existing malls through 78 million pounds of capital projects, mainly in active management such as refurbishing individual shop units.
This was in addition to commitments on 106 million pounds worth of projects already opened.
The 78 million pounds is also separate from the 500 million pounds CSC wants to invest over the next five years on major extensions to three of its malls -- Lakeside near London, Victoria Centre in Nottingham and Braehead in Glasgow.
"We would hope to be starting at least one of those projects at least by 2012, and ideally to get through the three of them within five years," Fischel told a conference call.
The company has yet to decide how it will finance the half billion pounds in planned capital expenditure, although possibilities include equity, debt, or partnerships, he said.
"We've got at least a year if not a couple of years before that decision has to be taken, and we will look at that decision on its merit on its time," he said.
© Thomson Reuters 2021 All rights reserved.