Canada back-to-school sales tough, to get tougher
August 30 - Cautious consumer spending, fragile stock markets and increasingly fierce competition will weigh on the fortunes of Canadian retailers this back-to-school season.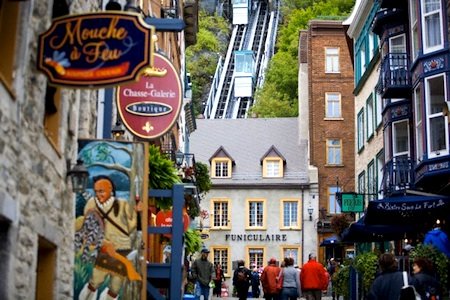 About 42 percent of Canadians say they want to cut down on discretionary spending because of the recent stock market events. - photo: corbis
Early signs show consumers are postponing sales, cutting budgets, sticking to buying essentials and searching for the best bargains.
That's bad news for retailers, but what's worse is the knowledge that the fight for sales will only get tougher with the arrival of U.S.-based discount retailer Target Corp in the market in 2013.
Target is one of a wave of U.S. players entering an increasingly packed and competitive field. The crowding is already forcing some steep discounting, and this will lower margins in the third quarter.
Wal-Mart Stores Inc is expanding in Canada, and J. Crew and TJX-owned Marshalls are in the early stage of their Canadian growth strategies.
"The pie isn't getting any bigger. But the demand for more slices is increasing," said Ed Strapagiel, executive vice president at market researcher KubasPrimedia. "Somebody's got to take a smaller piece."
Although Canada's economy has been relatively healthy, thereby attracting U.S. retailers, consumers are continuing to take a thoughtful approach towards spending.
"People are considerably value conscious and are pre-shopping online before they come to the store," said Anthony Stokan of retail market consultant Anthony Russell.
Also, the back-to-school sales season has been getting longer, Stokan said, making it harder for retailers to control prices.
"The consumer is just not willing to step up to the plate and spend a lot of money," Edward Jones analyst Brian Yarbrough said.
Daniel Baer, consumer industry leader at Ernst & Young, said sales will be little changed this season from last. "The early assessment we're getting from retailers is not great," he said.
Playing on the minds of consumers are the wild swings in the stock market and the bleak economic news coming out of the United States and Europe.
"Canadian consumers are feeling increasingly financially insecure this summer," said Cliff Grevler, a partner at Boston Consulting Group in Toronto. "The volatility in the stock markets is having a profound impact on consumer sentiment and future spending intentions."
About 42 percent of Canadians say they want to cut down on discretionary spending because of the recent stock market events, a recent BCG survey led by Grevler showed.
"Consumers are focusing on reducing household debt and emphasizing value as the driver in back-to-school spending," said Frances Gunn, assistant professor at Ryerson University's Ted Rogers School of Retail Management in Toronto.

ELECTRONICS UP

The retail category feeling the greatest heat is apparel as shoppers view a much wider array of choices. Consumers planning to buy women's wear are, on average, visiting four stores before making a purchase, more than any other category, a survey from KubasPrimedia found this month.
This is squeezing long-established Canadian apparel retailers such as Reitmans as is the arrival in Canada of Marshalls, J. Crew, and brands from Ascena Retail Group Inc.
Tech-savvy children are also playing a greater role in back-to-school shopping, which is reflected by Sears Canada's move to revamp its children's section this season to try to gain share.
"Younger consumers are increasingly sophisticated in their product knowledge and are more likely to influence purchase decisions," Gunn said.
While apparel may be suffering, consumer electronics is seeing an uptick as young people see laptops or smartphones as being indispensable as pens and paper used to be.
They are not shopping for a single gadget, but a complete tool kit of products, said Best Buy Canada spokesman Christopher Ian Bennett. "So it's not just about the latest tablet, smartphone or laptop, but how these all work together to keep students connected."
Best Buy Canada's best-selling products this season include Samsung's Galaxy S II Android smartphone, the Samsung Galaxy tablet and HP Envy laptops, he said.

(Reporting by S. John Tilak; editing by Peter Galloway)
© Thomson Reuters 2023 All rights reserved.