Cambodia probes mass fainting of workers at Puma supplier
April 10 - Cambodian authorities began an investigation on Sunday into the mass fainting of about 800 workers at two garment factories, including one that produces footwear for German sporting goods group Puma.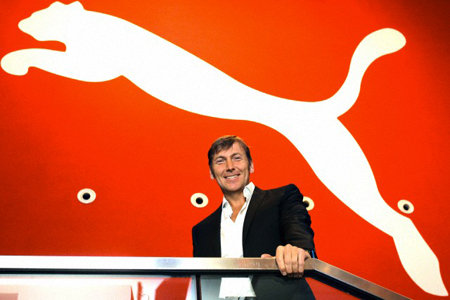 Puma Chief Executive Officer Jochen Seitz
About 300 workers at Huey Chuen (Cambodia) Corp Ltd on Saturday night suddenly fell sick, followed by another 500 on Sunday at Universal Apparel (Cambodia) Co Ltd, labour industry officials and workers said.
Huey Chuen supplies products to Puma.
Puma, quoting a local police report, said the number of Huey Chuen workers who fell sick was 101. Moeun Tola, head of the labour unit at the nonprofit Community Legal Education Center, put the figure at about 300 and said the discrepancy was due to large numbers of workers going home instead of to hospital.
"I was just feeling exhausted and dizzy," said Keopich Panha, a hospitalised 19-year-old shoe stitcher at Huey Chuen.
Phnom Penh Police Chief Touch Naruth told Reuters his officers and the Labour Ministry were investigating the factories, where workers such as Keopich Panha typically earn about $61 a month.
"It could have been the workers were too tired. We will also look at work environment issues and whether there was enough air or oxygen," he added. "We don't know the conclusion yet."
Worker Soeum Ny, 24, said the smell from materials used in the manufacturing of sport shoes may have made workers sick.
"We are used to it now. This affects our health but there is nothing we can do," she said.
Moeun Tola said mass fainting is a problem in Cambodia's textile industry because rules requiring factories to be monitored are not enforced.
"The government has to strictly monitor these factories," Moeun Tola said.
Garment manufacturing is Cambodia's third-biggest currency earner after agriculture and tourism. More than 210,000 textile workers went on strike last year over the government's attempt to regulate trade unions.
Cambodian factories produce clothes for many Western brands, including Gap Inc, Nike Inc and Inditex Group , the world's biggest clothing retailer and owner of Zara.

By Prak Chan Thul
(Editing by Jason Szep and Miral Fahmy)
© Thomson Reuters 2023 All rights reserved.