Budget fails to cheer textile sector
MUMBAI (Reuters) - India's textile industry was left disappointed after the budget on Monday 6 July as key demands were not met despite some positive announcements for the export-oriented sector, sending shares of textile firms down.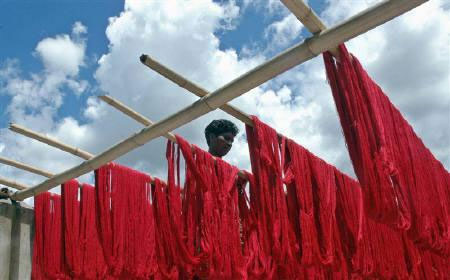 A worker hangs yarn dipped in dye to dry at a textile mill on the outskirts of Agartala, capital of Tripura - Photo: REUTERS/Jayanta Dey
The $52 billion labour-intensive industry is estimated to have lost nearly a million jobs over the past year as the lingering economic slowdown hurt demand for apparels and firms cut production to avoid inventory pile-up.
The embattled industry has been asking for removal of excise duties on all man-made fibres and scrapping of service tax.
It also wanted restoration of a 4 percent interest rate subsidy on bank loans for exporters.
The government announced extension of the existing 2 percent interest subvention scheme for exporters till March 2010, but did not increase the subvention to 4 percent. "There were some positives announced for the textile industry, but the government has also not touched upon many of our demands," said R.K. Dalmia, senior president at Century Textiles & Industries Ltd.
Finance Minister Pranab Mukherjee restored an optional 4 percent duty on cotton textiles beyond the fibre stage, which was a welcome move as firms can now claim export rebate of the duty paid, he said.
But other measures such as restoration of 8 percent duty on man-made fibres and yarn from existing 4 percent, went against the demand of textile players who had asked for the duty to be removed altogether, Dalmia said.
"Nothing very great for the textile sector so far," said Rajendra Hinduja, executive director at apparel exporter Gokaldas Exports Ltd.
"The main demand that export profits be made tax-free did not come through...even the increase in subvention did not come through," Hinduja said.
Another key demand regarding increasing funds under the Technology Upgradation Fund Scheme (TUFS) for textile firms, did not form part of Mukherjee's budget speech. Under TUFS, textile units can avail of loans at concessional rates.
The industry requires close to 40 billion rupees under TUFS to clear the existing backlog of subsidy payments and upgrade technology of textile units in FY10, Dalmia added.
"With a fiscal deficit of 6.8 percent there was hardly any room for the government to announce big reforms," said Sunil Khandelwal, chief financial officer, Alok Industries.
"The textile sector now keenly awaits an announcement on drawbacks expected after a week or so," Gokaldas' Hinduja added.
The industry had asked for a 2 percent increase in duty drawback rates on textile products, but the issue was not addressed in the budget.
The drawback rates were reduced in September and now vary between 1-3 percent for a majority of textile products after cenvat facility is availed.
"In the government's Exim Policy we should probably hear about it, let's wait and watch," Khandelwal said.
Alok Industries was down 9.01 percent at 21.20 rupees, while rival Arvind Ltd plunged 9.33 percent at 26.25 rupees.
Gokaldas fell 5 percent at 101.95 rupees, and Century Textiles was down 5.61 percent at 378.30 rupees.
© Thomson Reuters 2023 All rights reserved.