Britons eye 'burkhas for boys' for Christmas
GREENHITHE, England, Dec 14, 2007 (AFP) - A jacket with sunglasses sewn into the hood, dubbed a "burkha for boys", is shaping up as a big Christmas hit within weeks of its release in Britain.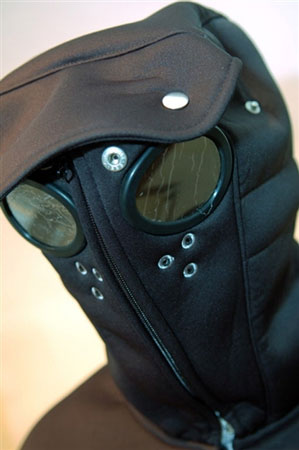 Photo : AFP
The garment has raised eyebrows in a country wary of so-called "hoodies", or young men wearing hooded coats, but police admit they can do nothing in the face of the anonymity it bestows on the wearer.
"In only three weeks, we have sold more than 450 in my region," Peter Webster, representative for the jacket designer Carter's operations in south and southeast England, told AFP.
"The retail industry is very poor at the moment but the 'goggle jacket' has done very well."
The "goggle jacket" is exactly as the name implies -- a hooded jacket with two pieces of cloth that can cover the face entirely with the help of a zip, while two integrated plastic pieces allow the wearer to continue to see.
Sold by several retailers for between 50-85 pounds (70-118 euros, 102-175 dollars), it can be found in black, camouflage, cream and pink and is targeted at young men between the ages of 15 and 25.
It was inspired by a leather jacket created by Italian clothes maker CP Company, in homage to an automobile race that ran from 1927 to 1957. That jacket sells for around 600 pounds, and is worn by celebrities like Liam Gallagher of music group Oasis.
The result has been regarded as "fun and fashionable" for some, and "scary and frightening" for others: models with dark colours convey the image of commandos or criminals, while ones with light colours give the impression of a nuclear or biological catastrophe.
At Arrival, a retailer in Newcastle, northeast England, the jacket has been selling like hotcakes, even among girls, thanks to word of mouth.
"I've sold 60 in three weeks, and 15 Tuesday," Mark Chapman, owner of Arrival, said.
"It's unusual, it's warm, some are waterproof. The design is wicked, it's an awesome garment."
Meanwhile, in the enormous Bluewater shopping mall in Greenhithe, east of London, three stores have been selling the jacket with just as much success.
In one week alone, retailer Base has sold 30 such jackets, and has 200 in stock in preparation for Christmas.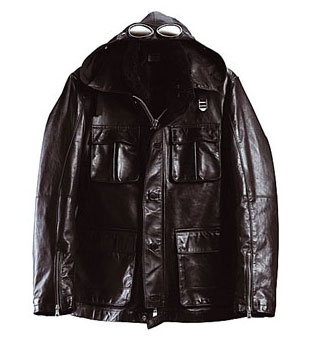 CP Company fall-winter 2007/2008
It's a fashion thing. It's such a different look it generates a lot of interest," the store's manager said.
After spotting the jacket in several locations in recent days, 14-year-old Ben Wilson brought his mother along to buy the jacket, saying: "Lots of my friends have one. I think it's nice and it's warm in there, it's good for the winter."
But he will have to wait until December 25 to wear it, as it will be Santa Claus who will be giving it to him.
Some of those who buy the jacket get it for fun, others for skiing or riding motorcycles, but not for committing crime or vandalism, retailers and designers insist.
"We didn't think about a potential misuse," said a spokesman for retailer Projekt NYC.
"If you look it that way, there are a whole lot of things that people can wear if they want to commit crimes like balaclavas."
For Mark Chapman, the jacket doesn't seem ideal for criminals: "It gets warm quickly in there and you have steam coming on the goggles so you can't see anything after a short while."
Despite those assurances, passers-by could well be frightened by youths, especially in groups, wearing the jackets -- not that the police could do anything, even if they wanted to.
"There's nothing illegal in wearing this jacket," a spokesman for the Association of Chief Police Officers (ACPO) said, adding that there have not been any reports of incidents involving anyone wearing one.by Elodie Mazein
Copyright © 2023 AFP. All rights reserved. All information displayed in this section (dispatches, photographs, logos) are protected by intellectual property rights owned by Agence France-Presse. As a consequence you may not copy, reproduce, modify, transmit, publish, display or in any way commercially exploit any of the contents of this section without the prior written consent of Agence France-Presses.