Bread&Butter: quality of visitors, not quantity
99,500 in January 2008, 89,168 in July 2008 and 79,942 in January 2009. The number of visitors has been steadily decreasing, but for the trade show in Berlin at the beginning of July, at the Tempelhof airport, the organizers have abandoned the figures and declared a "true success, the best of all the editions."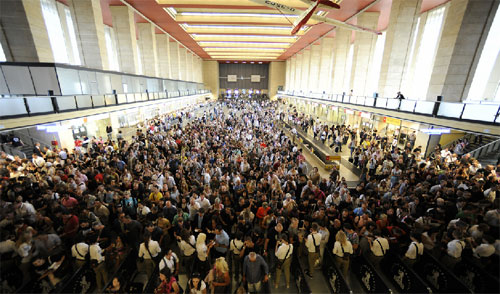 Entrance of Bread&Butter in Berlin July 2009
"From now on we will no longer communicate visitor figures, it is not relevant. The quality of our exhibitors and of our visitors is of the highest level," declared Karl-Heinz Müller, director of Bread & Butter.
Half the number than were present during the preceding session, the 567 exhibitors – spread over Sport&Street, Street Fashion,Fashion Now!, Style Society, Denim Base, Urban Superior, The Source and the Luna Park – saw "25,000 people the first day" at the event according to the director, who was delighted by the international dimension of the event.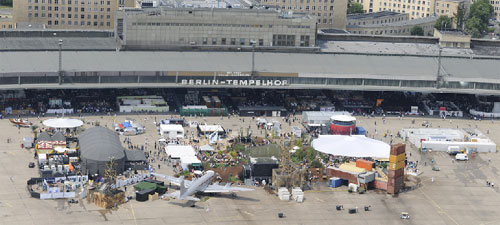 Aerial view of Bread&Butter in Berlin July 2009
Bread&Butter has once again drawn people from all over the world: 13% came from Italy, 9% from the Benelux countries and 7% from the UK to round out the top three. Next came Spain and Portugal (5% each), followed by France (5%), Scandinavia (4%) and Switzerland (3%), without forgetting that there were Americans, Brazilians, Australians, Chinese and Indians present too.
Questioned by our team, the brands were in agreement about giving a positive report on the event. Firetrap, Ben Sherman, FullCircle, Desigual, G-Star, Feiyue and Scotch&Soda… to name but a few, all were rejoicing at the strong foreign presence. Stefan Wiltmann, on the La Fée Maraboutée stand, was there for the first time: "People have come from all over the world, it's the best trade show in the whole of Europe."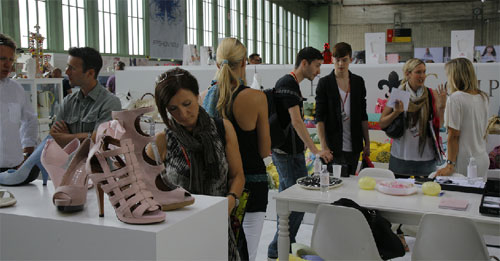 Bread&Butter July 2009
At Loft Design By, which was also participating for the very first time at a trade show, Bread&Butter allowed them to measure the response to the collection outside of its original market, a new opportunity for this very Parisian brand. "We are very surprised as there is a real interest in our collection, ... we are working again with the feedback," they said to us at the stand.
Liu Jo was delighted with the quality of the visitors: "we are very satisfied, we have met a lot of interesting contacts and seen beautiful international opportunities."
By Jonathan Fulwell (Source: Julie Mangaud)
Copyright © 2023 FashionNetwork.com All rights reserved.