Brazil sees a black winter as Sao Paulo Fashion Week starts
SAO PAULO, Jan 16, 2008 (AFP) - Brazil's summers may be a carnival riot of color and flimsy attire, but when it comes to winter, or this coming winter at least, Brazilian designers are seeing black.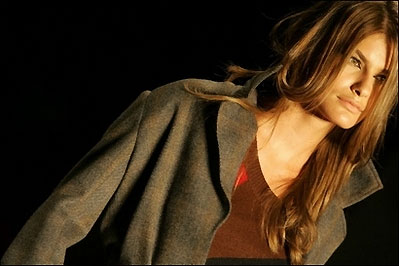 Creation by Cori automn-winter 2008/2009 in the Sao Paulo Fashion Week - Photo : Mauricio Lima/AFP
That staple in women's wardrobes from New York to Paris was out in force on the catwalks in Sao Paulo Wednesday as the city opened its annual Fashion Week -- Latin America's biggest -- with the first of 40 shows that fill out its program.
Designers draped their models in night-black attire, though Brazil's natural sunny exuberance shone through with some outfits in bright primary colors, and short skirts and dresses that exhibited a lot of leg -- winter in Brazil after all is just a short seasonal dip in the tropical temperatures.
Fause Haten, a Brazilian of Lebanese descent who counts as one of the country's top designers, went double-barreled: two models at a time took to his catwalk, one dressed as the black shadow of the other, more colorful woman.
When color did come into play, it was often as strident vertical stripes of red, yellow and green. Perky skirts or form-fitting dresses figured prominently.
His clothes exhibited no big flights of fancy. An attempt to sit a white cotton mane atop a black dress failed when the view from behind evoked the image of a wilted white sunflower on a drab stem.
But his footwear stood out: ankle- and thigh-high fetish boots, black and shiny, with soles of a thickness to put a fright into poodles and short men.
Cori, a brand aimed at Sao Paulo's legions of women office workers who believe dressing for sexiness is as at least as important as dressing for success, proved more to the taste of the audience of Brazilian celebs and fashionistas.
Though black predominated, it was offset by wide belts and accessories -- shoes, earrings -- shimmering with gold. Indeed, one number was a gold-chain dress that Brazilian women executives can presumably don for special functions.
Swishy tailored pants, including one in charcoal gray with chestnut checkers, finished above the navel, as did most of the skirts. Tops were structured, and jackets were often black (of course) to offset jigsaw blitzes of color underneath.
It was the first Cori show for stylist-partners Dudu Bertholini and Rita Comparato, who have already won a loyal following in Brazil and from New Yorkers in the know with their own flashier label Neon, which was also to be shown later in the Fashion Week.
Bertholini said the tailoring and controlled lines in the Cori collection were to differentiate it from Neon.
"The Neon woman is much more outrageous and very colourful and the exotic, dramatic woman of the party, and the Cori woman is much more low-profile, she's urban, she's a working woman," he told AFP backstage.
Audience members were unconvinced there really was that much difference between the brands -- but said they loved the collection anyway.
"It's too like Neon -- but I love Neon. These are clothes I could be wearing in winter," said Marina Franco, a 27-year-old stylist in the front rows.
Some of the other upcoming shows creating a buzz in the exhibition center hosting the Sao Paulo Fashion Week were Animale, a Rio de Janeiro brand known for its sensuality, and Cavalera, a pop-inspired Sao Paulo label.
Some 100,000 people were expected to attend this year's event, whose aim is "invite us to seek our identity in the middle of all this human confusion," represented by big cities such as Sao Paulo, said the director, Paulo Borges.
For one New York-based Brazilian model preparing for a show, 20-year-old Sheila Klein, it was more a chance to come home, to see familiar faces after traveling around the international fashion circuit.
"Here I know the people. There are friends, I know the make-up people, the stylists," she said.
"Paris is different, the people are different," she offered, adding that Brazilian designers were finally starting to get some notice "now that they are more creative."

by Marc Burleigh
Copyright © 2023 AFP. All rights reserved. All information displayed in this section (dispatches, photographs, logos) are protected by intellectual property rights owned by Agence France-Presse. As a consequence you may not copy, reproduce, modify, transmit, publish, display or in any way commercially exploit any of the contents of this section without the prior written consent of Agence France-Presses.