Brazil's CSN tops Tata in Corus bid
By Mark Potter and Alberto Alerigi Jr
LONDON/SAO PAULO (Reuters) - Brazilian steelmaker CSN offered on Monday to buy Anglo-Dutch rival Corus Group CS.L for 4.9 billion pounds in cash, trumping a bid made only hours earlier by India's Tata Steel.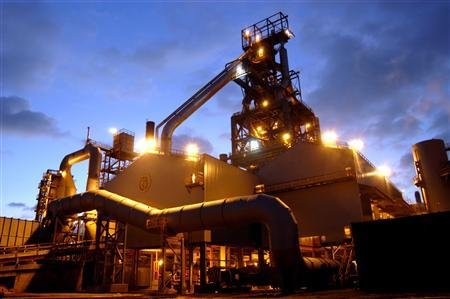 Companhia Siderurgica Nacional , as the Brazilian company is formally known, said it would pay 515 pence for each Corus CS.AS share, topping Tata Steel offer of 500p. Tata Steel, which kicked off the battle, said it was considering its position after CSN's offer.
A takeover of Corus by either company would create the world's fifth-biggest steelmaker, producing around 24 million tonnes of steel a year.
It would also mark the latest acquisition in the steel sector as companies look for global reach, economies of scale and to secure valuable raw material supplies. Earlier this year, Dutch-based Mittal Steel bought Luxembourg's Arcelor to create Arcelor Mittal , the world's biggest steelmaker.
For CSN, which lost out last month to steel services group Esmark in a battle for U.S. steelmaker Wheeling-Pittsburgh Corp. WPSC.O, a Corus takeover would thrust it onto the global stage at a time when other big Brazilian companies are aggressively expanding abroad.
It would also allow CSN to boost capacity and tap into more lucrative markets in Europe, where Corus's distribution network is well established.
"Strategically, it's a very interesting asset for CSN," said Kelly Trentin, a steel analyst at SLW, a Sao Paulo brokerage. "It follows the trend among Brazilian steelmakers of seeking to buy capacity overseas, while investing to expand capacity at home."
Corus stock leaped 6 percent to a six-year high of 529-1/2 pence on hopes the bid battle would yield an even higher offer. CSN shares tumbled 2.08 percent in Sao Paulo to 63.40 reais on fears it would get caught up in a costly bidding war.
Several analysts voiced concern that CSN might overpay for Corus in its zeal to expand overseas. But they said it was unclear if it would be willing to raise its offer yet again.
"We are clearly in a competitive situation. We will await developments," said David Cumming, head of UK equities at Standard Life Investments, which is Corus's largest shareholder with a 7.8 percent stake.
GLOBAL HEAVYWEIGHT?
Since CSN was privatised in 1993, its chief executive, Benjamin Steinbruch, has made no secret of his desire to turn the company into a global heavyweight.
One of Brazil's best-known corporate executives, Steinbruch made millions in the textile business before taking the reins of CSN and saving it from bankruptcy. Today, CSN is one of Brazil's most profitable steelmakers, in part because it has its own iron ore mine.
"Our goal is to unlock the value of our iron ore assets through Corus, transforming them into cost-effective, high- quality steel products using Corus's advanced engineering capabilities and its excellent European distribution platform," Steinbruch said in a statement.
Analysts said CSN held the upper hand over Tata since it could extract more cost-savings from a deal, mainly because it could supply Corus with iron ore -- a key ingredient in steel.
CSN Financial Director Otavio Lascano said in a conference call with analysts the company plans to supply Corus with 6 million tonnes of ore in 2007 and up to 18 million tonnes a year by 2009.
"Clearly, CSN is able to realise more synergies than Tata," said Rabobank analyst Richard Brakenhoff.
He said CSN was paying a high price compared with the industry average and that Tata Steel was unlikely to return with a higher bid.
CSN, which held unsuccessful tie-up talks with Corus in 2002, said it expected to make annual cost savings of about $300 million (153 million pounds) on a pretax basis by 2009.
It also said it would inject 138 million pounds into one of Corus's pension plans and increase contribution rates on another until March 2009. Sources close to the matter had told Reuters that Corus's pension trustees were concerned about the level of debt of a combined Corus and CSN.
CSN said it would fund the deal mainly with 4.35 billion pounds of debt underwritten by Barclays , ING bank NV and Goldman Sachs Group .
A Corus spokesman said the CSN deal would give Corus an enterprise value of about 7.7 times its forecast 2006 earnings before interest, tax, depreciation and amortisation (EBITDA), compared with a steel sector average of about 5 times.
(Additional reporting by Devidutta Tripathy in Mumbai)
© Thomson Reuters 2022 All rights reserved.