Bolivia's alpaca farmers feel bite of crisis
SAJAMA, Bolivia (AFP) — Bolivia's alpaca farmers live far, far away from the world's financial capitals, but they have still felt the bite of the economic crisis, which has cut demand for the lustrous textile used in pricey clothes from Milan to Melbourne.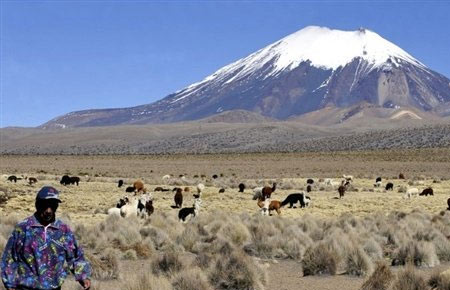 Pablo Olivares grazes a herd of llamas and alpacas at the foot of the Payachata peaks in the Sajama National Park - Photo: AFP
High in the Andes, southwest of La Paz and close to the Chilean border, lies Sajama national park, where production of the fleece from alpacas -- a shaggy llama-like camelid found only in South America -- is a tradition passed on through generations.
The region is remote and inhospitable, and it has not been spared the hardships imposed by the worldwide economic downturn.
"The price of a pound of fleece from alpacas and llamas has gone down by nearly half," Maria Choque complained to AFP.
An Aymara Indian, Choque is considered the best fleece-collector among the 350 inhabitants of Sajama village. In the past, she pocketed around two dollars per pound. Now she earns around 1.20 dollars.
"We take the wool to La Paz where it's sold to wholesalers," she explained.
Even though alpaca fleece is more sought after than llama wool, Choque said sellers receive only a tiny premium that can go up according to color. "White fleece fetches the most," she said.
According to Bolivia's statistics agency, household income for the 1.5 million Aymaras in the region is 300 dollars per year.
The Sajama national park, dominated by an extinct volcano of the same name that the Aymara believe is home to their gods, is one of the first tracts to be designated a protected area by Bolivia's government.
Vegetation is scrappy and sparse, and the camelids, domesticated descendants of native animals, live off Andean shrubs, and serve as the basis of the impoverished region's economy.
Pablo Olivares, one of Sajama's oldest inhabitants, noted that producing wool from alpacas and llamas is "very difficult."
Shearing occurs only once every two years, during the freezing months of October and November.
"Each alpaca yields four pounds of wool, a llama a pound and a half, and the vicuna (another camelid) just 300 grams," he said.
Margins are so meager that with high or low prices, all the farmers can do is "survive," he said.
Bolivia claims to have the biggest llama population in South America, estimated at around one million heads. Alpacas are less numerous, and more commonly found in neighboring Peru. There are ongoing efforts to save the vicunas -- prized for the taste of their meat -- from extinction.
The Camelid Products Company, which groups 1,350 partners spread across western and central Bolivia, says 250 tons (227 tonnes) of alpaca fleece are sold a year, and 434 tons (394 tonnes) of llama wool.
By Ruben Sandi
Copyright © 2023 AFP. All rights reserved. All information displayed in this section (dispatches, photographs, logos) are protected by intellectual property rights owned by Agence France-Presse. As a consequence you may not copy, reproduce, modify, transmit, publish, display or in any way commercially exploit any of the contents of this section without the prior written consent of Agence France-Presses.