Bold fashion defies slowdown in South Africa
By Sandiso Ngubane
JOHANNESBURG (Reuters Life!) - Designers defied the global economic crisis at this season's South African fashion week by showing off vibrant outfits with hints of tradition inspired by a golden era of African civilisation.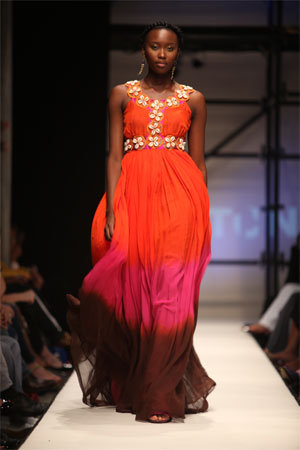 Stoned Cherrie at the Sanlam SA Fashion Week (Photo courtesy of Sanlam SA Fashion Week)
Stoned Cherrie, South Africa's best-known black design label, closed fashion week in Johannesburg with bold colors and fabrics reminiscent of royalty, influenced by the ancient Mapungubwe civilisation from southern Africa.
"Stoned Cherrie is about abundance," Nkhensani Nkosi told Reuters after the show, which featured models bedecked in brightly colored dresses covered with frills, mixing fabrics such as mesh, lycra and a delicate silky cotton.
"Inspired by the curiosity around Mapungubwe, we basically tried to imagine what it would have been like in the present day," she added.
Mapungubwe is believed to have developed into the largest kingdom in sub-Saharan Africa before it was abandoned in the 14th century and may have boasted sophisticated trade links with India and China as far back as a thousand years ago.
Fashion in post-apartheid South Africa reflects the country's journey from pariah state to a multiracial democracy, as young designers like Nkosi mirror the country's diversity and growing cultural confidence.
Not so long ago, designers -- both black and white -- would often simply mimic European trends. But in recent years, new labels like Stoned Cherrie have combined indigenous African fabrics with sleek modern lines or funky streetwear.
Stoned Cherrie, known for its T-shirts adorned with iconic prints of political leaders like Steve Biko, also has global ambitions, and recently held its first show in New York to what Nkosi said was a "fantastic reception."
The show in Johannesburg at the weekend was packed.
Nkosi said she was determined not to let the global financial crisis, which has dulled demand for haute couture from Paris to Tokyo, temper the optimism at the heart of her collection.
Fellow designer Uyanda Mbuli, who exhibited her Diamond Face Couture label at fashion week, echoed Nkosi's sentiments.
"Just because there's an economic meltdown doesn't mean that consumers aren't buying clothes," Mbuli said, adding her one-year-old business had not been affected. "It's just that their buying decisions are now backed by intellect. They seek value."
(Editing by Paul Casciato)
© Thomson Reuters 2022 All rights reserved.