Blogger Jane Aldridge for Urban Outfitters
The blogosphere is invading the world of fashion. Until now we have seen both successful and disappointing collaborations between celebrities and fashion houses, and from now on similar partnerships will be established with bloggers. Leading the way is Jane Aldridge, author of the "Sea of Shoes" blog, who has just created a collection of shoes for Urban Outfitters.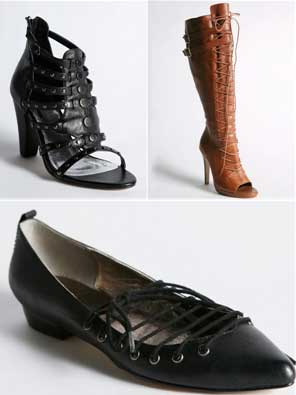 Models from the J.Aldridge for Urban Outfitters collection
An exclusive capsule collection of six pairs, the first three examples should be available in-stores from the 15th of July as well as on the label's website. The final three are expected to follow in December. Blogging on her site the blogger-cum-designer reported that the line would be released under the name 'J. Aldridge for Urban Outfitters'.
Originally from Dallas, this shoe addict is only 17 years old and yet her confidence and freedom have already seduced fashion professionals.
After Garance Doré was voted one of the most influential women in fashion, the blogosphere does not seem to have finished turning the 'fashion-o-sphere' upside down. In fact, with their free style and market sensitivity, bloggers may become the new trend-setters.
By Jonathan Fulwell (Source: Sarah Ahssen)
Copyright © 2023 FashionNetwork.com All rights reserved.