Bettencourt family pledges support to L'Oreal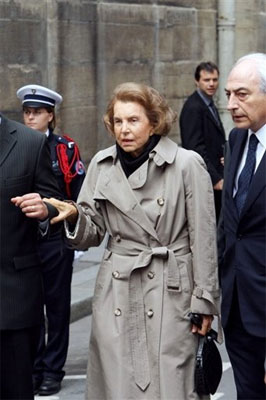 Liliane Bettencourt - Photo : AFP
PARIS, March 3 (Reuters) - Francoise Bettencourt Meyers, scion of the L'Oreal group (OREP.PA), on Wednesday 3 March pledged to continue supporting the French cosmetics giant, responding to speculation she could sell her stake to co-shareholder Nestle.

Bettencourt, who is to fully inherit her mother's Liliane's 31 percent holding at her death, said the two women's dispute did not impact the family's commitment to the group.
L'Oreal shares rose to their highest in almost two years on Tuesday 2 March after the Daily Telegraph published a report which said Nestle (NESN.VX) was in informal talks to buy Liliane Bettencourt's stake.
Nestle has been a shareholder of L'Oreal since 1974 and owns 30 percent of the French cosmetics giant.
"Pretending that... Francoise Bettencourt Meyers would have initiated the current legal proceedings... with the secret aim of selling the family holding to Nestle as quickly as possible, is ... judicial nonsense," said Francoise Bettencourt Meyers and her husband Jean-Pierre Meyers in a statement sent to Reuters by their lawyer.
Francoise Bettencourt Meyers has taken legal proceedings against a photographer who allegedly took advantage of her mother's generosity. The man, a long-standing friend of her mother, denies any wrongdoing.
The Bettencourt family and Nestle signed an agreement in 2004 which prevents Nestle from raising its stake until six months after Liliane Bettencourt's death.
Liliane Bettencourt is 87 years old.
In April last year, Nestle and the Bettencourt family said they planned to continue working together after their shareholder pact expired on April 29.
Francoise Bettencourt Meyers added that she "wished to express her wish, and that of her family, to continue to accompany with responsibility and engagement L'Oreal's future development."
L'Oreal shares fell 0.98 percent to 78.89 euros at 1549 GMT, while France's CAC 40 .FCHI index of blue chips rose 0.75 percent.
Paris-based L'Oreal, which owns brands such as Garnier shampoo, Vichy creams and Kiehl's essential oils, celebrated its 100th anniversary last year and has about 15 percent of the world cosmetics market. (Reporting by Thierry Leveque and Astrid Wendlandt; Editing by Sharon Lindores)
© Thomson Reuters 2023 All rights reserved.