Belgian museum exposes celebrity underpants
BRUSSELS (Reuters Life!) - It is a little known fact that Belgium's finance minister wears blue and white striped boxer shorts and the Brussels underpants museum has a pair to prove it.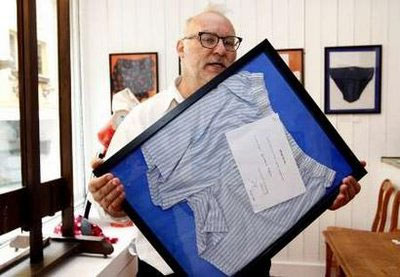 Belgian Jan Bucquoy displays a pair of Belgian Finance Minister Didier Reynders' boxer shorts at the Underpants Museum in Brussels - Photo: REUTERS/Thierry Roge
Belgian artist Jan Bucquoy said that the framed underwear represents a utopian longing for an equal society.
"If I had portrayed Hitler in his underpants there would not have been a war. I think in this way you can contribute to a better world," Bucquoy told Reuters on Friday 17 July.
"If you are scared of someone, just imagine them in their underpants. The hierarchy will fall and you will see that this is a guy like any other. We are all equal, all brothers."
Bucquoy's "Musee du Slip" or underpants museum, which opened in Brussels earlier this month, features framed underwear donated by mostly Belgian artists, singers and politicians. Each pair comes with a certificate of authenticity and must have been worn at least once by the donor.
Elsewhere, pictures of those unwilling or unable to hand over a pair of undies are adorned with underwear nonetheless.
An Andy Warhol-style print of Margaret Thatcher, wearing a skin-colored flower-patterned pair of women's underpants, contrasts sharply with French President Nicolas Sarkozy, whose tri-colored Y-fronted headwear unmistakably resembles a Napolean Bonaparte hat.
One such picture of Belgium's Queen Fabiola sold for 550 euros ($775.8) last weekend, a price Bucqouy feels is justified for his art.
"When you buy a Picasso or a Van Gogh for 50 million, in the end it is only a bit of oil paint, not that well painted. In the case of van Gogh too yellow and in the case of Picasso, women with three eyes and two noses. Why would you pay 50 million for that?," Bucquoy said.
The artist's work is rooted in the surrealist movement and inspired by fellow Belgian Rene Magritte, whose famed works include a painting of a pipe with the caption "Ceci n'est pas une pipe" (This is not a pipe).
"I want to create poetry with everyday things by putting them in a different context. I say underpants are art, put them in a frame and create a new way of looking at the world, " Bucquoy said.
He added that surrealism was a bit like linguistically split Belgium -- "something that does not really exist."
Belgian King Leopold II, chiefly remembered as the founder and brutal ruler of Belgian colony Congo in the 19th century, dons a pair of banana-patterned boxers in one of the prints.
Bucquoy has deliberately sought controversy in previous years by staging a fake coup or trying to decapitate a plaster bust of Belgium's late King Baudouin in Brussels' Grand Place.
"My quest as an artist is to try to get rid of hierarchy and they are the top of the hierarchy. By putting underwear on their heads I try to tell the people, we don't need this hierarchy," Bucquoy said.
For his exhibition in Paris this autumn he will try to obtain underwear from Sarkozy's wife Carla Bruni, but the most-coveted trophy, he said, would be an item from the pope.
"Or the Iranian president. People would queue to see that."
(By Antonia van de Velde. Additional reporting by Marine Hass, Editing by Paul Casciato)
© Thomson Reuters 2023 All rights reserved.