Beckham strips down to his undies for Armani again
By Josie Cox and Martina Fuchs
LONDON (Reuters) - A day after fleecing Andorra 6-0, England football star David Beckham launched a new underwear campaign for the Giorgio Armani fashion label.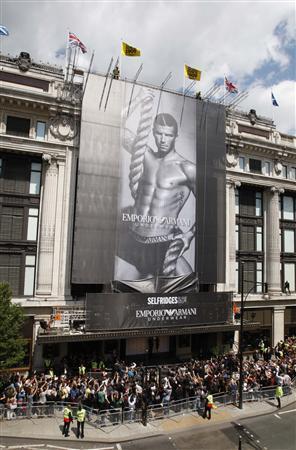 Beckham said he was "proud but a little embarrassed" by the colossal billboard photograph of himself in nothing but a pair of tight, black briefs emblazoned with the Emporio Armani eagle logo, which now looms over London's Oxford Street retail hub.
The 34-year old Beckham, currently on loan to AC Milan from the Los Angeles Galaxy football team, and his Spice Girl wife Victoria, have stripped down before for Armani campaigns.
The photograph shows the English sex symbol naked except for the underpants, perched on a chair with his legs spread. A braided rope is draped around his torso which partially covers his tattooed arms.
"He's gorgeous," 18-year old model Georgia Palmer raved, one of hundreds of fans who turned up to witness Beckham's three-minute appearance, despite a city-wide tube strike that plunged large parts of the capital into chaos.
Fans in the crowd were mostly appreciative of the photograph, though some were more impressed by his football prowess than the media hype for this latest underwear campaign.
"I preferred him last night on the pitch," said eight-year-old Ben-Jasper from Germany, who stumbled upon the crowd of onlookers while exploring London on a family holiday.
(Editing by Paul Casciato)
© Thomson Reuters 2023 All rights reserved.