Back-to-school US shoppers want a deal
August 3 - Less than two weeks into the back-to-school season, U.S. shoppers have a loud and clear message for retailers: "Make me an offer I can't refuse."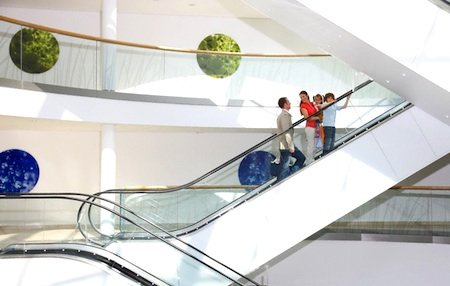 For U.S. retailers, the back-to-school season is the second-biggest selling period of the year after the December holiday season. - photo: corbis
Saddled with longer-than-usual school supply lists and fewer discretionary dollars, budget-conscious parents are ruthlessly hunting for bargains.
"I was a little surprised about how long the list was. There were things I didn't expect," said Angie Brady, a resident of Decatur, Georgia, who has two young school-age children.
"I'm hoping to be able to find better deals. I'll look for 2-for-1s and things on sale, but I'm also going to look for quality stuff at a good price," Brady said.
Many parents are even becoming "brand-agnostic" in their search for bargains.
They are now willing to venture beyond traditional back-to-school destinations such as office supply stores and specialty apparel chains, and open to shopping at mass merchants, drugstores, dollar stores, online stores and pretty much anywhere else where they can find decent bargains.
For U.S. retailers, the back-to-school season is the second-biggest selling period of the year after the December holiday season. The season has important implications as consumer spending accounts for about 70 percent of the U.S. economy, which barely grew in the first half of 2011.
The season typically runs from late July into early September as students gear up for the upcoming school year.
Susan Rau, 42, who was shopping for her twin sons at a mall in Hollywood, California, said she will buy more store brands and shop at department stores this season.
"They don't really need that much and they're growing so fast, I'm gonna wait till when they actually need it."

EARLY DEALS

Retailers are not waiting, though.
"Retailers are starting to advertise for back-to-school earlier and earlier. They are trying to make sure they are top-of-mind of consumers," said Anthony Chukumba with BB&T Capital Markets. "We are going to see some real kind of blockbuster, traffic-driving deals just to try to pull the customers into the stores."
Rhonda Douma, who was shopping for her 3-year-old daughter at American Girl in another mall in California, also plans to chase the bargains.
Her top destinations for the season highlight the price sensitivity of the post-recession American shopper.
"Usually it's Wal-Mart and Target and Marshalls," said Douma. "We just found out about this store (Marshalls), and they have a lot of cute, fun stuff -- and brand names for cheaper prices."
Office supply stores are already feeling the pinch.
"While it is early in the back-to-school season, we have seen softer traffic trends versus the prior year," OfficeMax Chief Executive Ravi Saligram said on Tuesday.
"We have targeted our assortments and promotions to an extremely value-conscious consumer in a highly promotional retail environment," Saligram added.
Larger rival Staples Inc is touting everything from a $10 savings pass that lets shoppers save 15 percent on supplies throughout the season, to a ream of paper for 25 cents.
"The customer is very demanding right now," said Demos Parneros, president of U.S. retail for Staples. "They want deals, special offers, special pricing. They don't want to overpay."
From Staples to Sharpie maker Newell Rubbermaid, companies are planning on little help from the economy in the crucial selling season.
"We would love upside. But we can't count on it. So our plans don't have any upside from the economy in them," Parneros said. "So if things stay the way they are, how are we going to win more customers? How will we get more customers to come to the store? The answer is steady diet of deals."
Data from Experian shows that back-to-school campaigns with an offer had 69 percent higher transaction rates than those that did not feature a deal.

SCHOOL DISTRICTS, ECONOMY SQUEEZING PARENTS

Many school districts with strained budgets are requiring parents to supply more and more items that in the past would have been purchased by the schools, including basic items such as paper towels and hand sanitizers.
"That list just continues to get longer. (With the) sort of economy that we have been in for the past two-and-a-half to three years, that is becoming a way of life," Kmart's chief marketing officer, Mark Snyder, told Reuters.
The result is more pressure on parents already struggling to make household budgets work.
"Where we live, in our school district, you can ask the parents to do that. But there are districts where they just can't afford that," Rau told Reuters. Rau lives in Leesburg, Virginia, and was visiting California.
About 65 percent of parents surveyed by America's Research Group said they did not plan to spend more this season.
"Necessity, not desire, will drive this year's back-to-school season purchases," said Janet Hoffman, managing director of Accenture's Retail practice.

(Reporting by Dhanya Skariachan in New York, Joe Rauch in Charlotte, North Carolina, Mary Slosson in Los Angeles, Alistair Barr in San Francisco and Jessica Wohl in Chicago, editing by Matthew Lewis)
© Thomson Reuters 2023 All rights reserved.