Audrey Tautou leads Chanel film blitz
By Elizabeth Pineau
PARIS (Reuters) - Audrey Tautou, star of "Amelie," takes to French screens this week as the legendary designer Coco Chanel and, coincidentally or not, also takes over from Nicole Kidman as frontwoman for Chanel Number 5 perfume.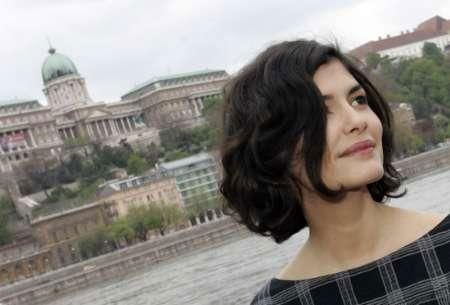 Audrey Tatou (Photo: REUTERS/Karoly Arvai)
"Coco avant Chanel," directed by Anne Fontaine, is the latest French biopic to ride the wave created by "La vie en rose," which gave Marion Cotillard her Oscar-winning role as the tortured chanteuse Edith Piaf.
"Coco Chanel's personality was absolutely extraordinary but beyond her genius and talent she has everything that the heroine of any great novel has," Tautou told France Inter radio.
Tautou has stared out gravely from billboards ahead of the launch of the film, which got warm reviews in the French press and tells the story of Gabrielle "Coco" Chanel as she moves from occasional cabaret singer to revolutioniser of women's fashion.
Next month, she will also appear as the mysterious heroine of a two minute advertisement for Chanel Number 5 shot by Jean-Pierre Jeunet, director of "Amelie," the film that propelled her to stardom in 2001.
The short film, which took four months to make, shows Tautou pursued by a handsome stranger on the Orient Express train to Istanbul. It will replace a similarly elaborate mini-film starring Australian Oscar-winner Nicole Kidman.
Chanel offered some items of clothing and locations to the makers of "Coco avant Chanel" but is otherwise unconnected to the film and a spokeswoman insisted that Tautou's simultaneous appearance in the advertising push was coincidental.
However surprising that may seem, the coincidence is no doubt a welcome one and interest in the designer will be fuelled further by a separate film later this year that will concentrate on Chanel's relationship with Russian composer Igor Stravinsky.
Brought up in an orphanage, Coco Chanel took up early with a wastrel playboy before taking her first steps in fashion and opening a hat shop in the fashionable resort of Deauville, displaying charm and iron-willed ambition in equal measure.
"She was a very hard, very authoritarian, very proud character and at the same time, this was a period of her life when her character wasn't entirely formed," Tautou said.
Chanel, who died in 1971, brought a new simplicity to women's clothes after the elaborate styles of the pre World War One "Belle Epoque" and the little black cocktail dress she created in 1926 remains a fashion staple to this day.
But her formidable personality was at least as important as her designing talent in creating the aura of the Chanel name.
"A woman without a perfume is a woman without a future," she once declared and she backed her own future by creating "Chanel Number 5," which became the biggest selling scent of all time.
(Writing by James Mackenzie)
© Thomson Reuters 2023 All rights reserved.