Attendance at Denim by Première Vision on the up once more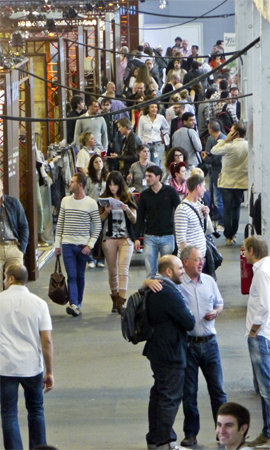 Denim by Première Vision
Paris's denim trade show drew 2,578 visitors to the Halle Freyssinet on 23rd and 24th May. The increase in numbers was largely down to a more noticeable overseas presence – 73% of attendees were from abroad, compared to 70% last year.
For this year's edition, which had 83 exhibitors, the trade show saw a higher number of visitors from other large European countries: Spain (+62%), Germany (+53.6%), Italy (+32.6%), the United Kingdom (+30%) and the Netherlands (+24%). The event organisers also pointed out that the number of visitors from Turkey and Tunisia rose by 111% and 53.6% respectively, whilst attendees from the USA and Brazil increased by 23.4% and 41.6% respectively.
In their report on the show, the organisers congratulated exhibitors on their efforts to surprise visitors from the denim industry. "The trade show has proven itself, in the space of just a few years, to be the point of departure for the latest developments and technology, innovations in textiles and colours, most notably this season for the growing womenswear market", said Première Vision.
The highlight of this year's show was "Up to Denim", an installation by manufacturer Isko which traced the complete cycle of developing denim wear and which was the setting for a conference bringing together the industry's major players: Marco Lucietti, Marketing Director for Isko, Jean Hegedus, Marketing Director of ready-to-wear for Invista, Valerio Galizi, owner of C&S, Tony Chu, Hudson's Vice-President, and Elena D'Urso, Marketing Manager of Fornarina.
The next edition of Denim by Première Vision has already been announced for 28th and 29th November. In the meantime, Atelier Denim will take place from 19th to 21st September at the Première Vision trade fair, and Denim by Première Vision Asia will be held in Shanghai on 23rd and 24th October.
Copyright © 2023 FashionNetwork.com All rights reserved.