Asian luxury demand underpins Richemont Q3 sales
ZURICH - Sales growth at Richemont held up in the company's third quarter, easing fears the sector might be in for a marked slowdown this year and allowing the Swiss luxury goods group to confirm its profit goal for the year.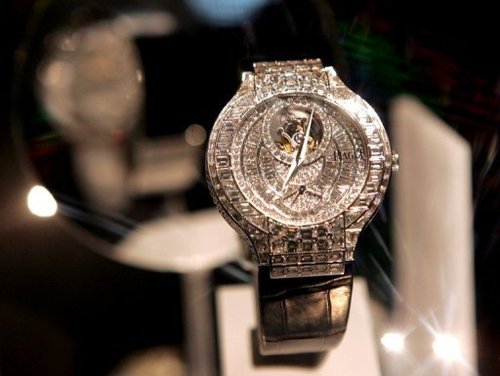 Piaget special edition watch in commemoration of the brand's 130th anniversary celebrated in 2004 in New York / Photo : AFP/ Paul Hawthorne
The maker of Cartier jewellery and IWC watches said on Monday sales rose 24 percent at constant exchange rates between October and December, beating forecasts for a 20 percent rise in a Reuters poll.
Buoyant Asian demand for pricey timepieces, as well as Chinese tourists flocking to Europe's luxury boutiques, have so far helped the industry sail relatively unscathed through the latest bout of economic turmoil, though recent comments from some in the sector have suggested this buoyant picture may be changing.
"The group's activities over the past nine months enable us to reconfirm our expectations that operating profit for the full year will be significantly higher than last year," Executive Chairman Johann Rupert said in a statement. The group's sales reached 2.62 billion euros against a forecast 2.53 billion.
He did not give any outlook for sales growth, but any company comments at the Geneva watch fair (SIHH) which opens on Monday could shed more light on the health of the luxury goods industry and brands' expectations for the year.
Sales in the Asia-Pacific region, which accounts for 40 percent of Richemont's sales, rose 36 percent in the third quarter, versus a 60 percent progression in the first half.
"The decline in the sales growth rate in the Asia-Pacific region reflects demanding comparative figures and a general convergence towards more sustainable, long-term growth rates," the group said.
Sales growth in Europe slowed to 15 percent from 22 percent in the first half. The region benefited from purchases made by travellers, Richemont said.
STRONG DEMAND
Growth in the Americas region, which slowed to 24 percent from 35 percent, was driven by strong demand for jewellery and watches and a good performance of online retailer Net-a-Porter.
Analyst Jon Cox at brokerage Kepler CM said it was a "strong set of figures, particularly given the weaker statement from Tiffany last week.
"Growth is still above 20 percent, driven by Asia Pacific obviously, but the biggest surprise is ... the ability of tourists to buoy demand in Europe while the Americas is much better than expected," Cox said.
Richemont shares were indicated to open 1.5 percent higher.
U.S. jeweller Tiffany said last week Christmas sales weakened markedly and lowered its full-year profit forecast. Swiss rival Swatch Group warned sales growth would slow to between 5 and 10 percent this year, compared with almost 22 percent in 2011.
"Despite strong figures, we retain our cautious stance on hard luxury (items) compared to soft luxury especially given signs of slowing sell out, including Chinese data as well as weaker comparative same-store sales trends from Tiffany," another analyst said.
Hard luxury goods include watches and jewellery while soft luxury refers to accessories such as leather bags and clothes.
Swatch Group and Richemont shares shed around 15 percent of their value last year, underperforming a flat STOXX Europe 600 Personal & Household Goods index, as markets price in a slowdown in watch sales this year.
By Silke Koltrowitz
© Thomson Reuters 2023 All rights reserved.