Asian, Gulf style on display at Dubai fashion week
By Martina Fuchs

DUBAI (Reuters Life!) - Designers from around the world will display their work this week in the Gulf Arab city of Dubai, which is making a bid to place itself on the international fashion map.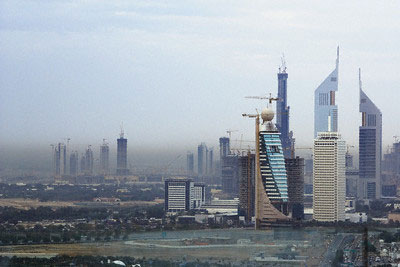 Dubai skyscrapers
"It's my fifth season, I love coming to Dubai. I love the diversity of Dubai and it's still young. In a couple of seasons it's going to be very international," Troy Costa, a Mumbai-based designer who created his menswear label in 2007, told Reuters at the show fittings.
"For every fashion week to get on the international road map it will need a good 10, 12 seasons. Dubai is only in its sixth season, but it's definitely going to happen," said Costa, who has designed clothes for top Bollywood film stars.
His Cuban-inspired spring/summer 2010 suits collection 'Un dia en Habana' featured distressed denim, Prince of Wales checks, with a touch of Bohemian styling and moccasins.
The fabrics use waxing techniques, enzyme treatments, crushing and blotching.
"I believe Salsa is the only masculine dance form. Salsa is the medium. That is why I have designed it for the international travel trend. The colors are very masculine," Costa said.
"It's young, something men will want to do in the future, mix and match."
Dubai made a name for itself from lavish projects such as man-made islands in the shape of a palm, hotels for the super-rich and immense shopping malls but has taken a hit during the financial crisis. Now many projects are on hold.
But the flashes of saffron, fuchsia and green on the Dubai catwalk during fashion week reflected confidence in a recovery. Thirty five Gulf and South Asian designers are taking part.
The Gulf Arab clothing market is still a fast-growing sector estimated to be worth around $12 billion dollars.
"Dubai is our second market. First is Brazil. We have been selling here for five years, but I didn't know the place, nor the women wearing our clothes. That's why we wanted to come here to see," said Georgina Mascaunhas, one of the Brazilian trio behind the Barbara Bela label, famed for its voluminous, hand-embroidered evening dresses made of satin.
"In Sao Paolo it took 12 years to attract international designers, here it will come too," she said. Pieces in their collection cost between $1,500 to $3,000 each.
Nadine al-Huneidi, a 20-year-old Serbian-Palestinian model sashaying on the catwalk for MIMI, said Dubai had reached its international fashion status already.
"It's because Dubai is at the crossroads of East and West, and reflects a mix of beautiful cultures."
Indian designer Babita Malkani, who sells her collections in Delhi, London, New York and Johannesburg, said fashion interest among Gulf women had to deal with cultural conservatism.
"Women here are enormously fashion conscious. But they are scared, conservative. But when they remove the abaya (Muslim veil) they dress extremely well. They know what fashion is, but there is something holding them back," she said.
(Editing by Paul Casciato)
© Thomson Reuters 2023 All rights reserved.