Asia's shoppers go online as Internet barriers fall
By Dhara Ranasinghe and Lee Chyen Yee
SINGAPORE/TAIWAN (Reuters) - From dresses, to handbags, diamonds and music downloads, consumers in Asia are taking to Internet shopping like never before as the region becomes one of the world's fastest growing e-commerce markets.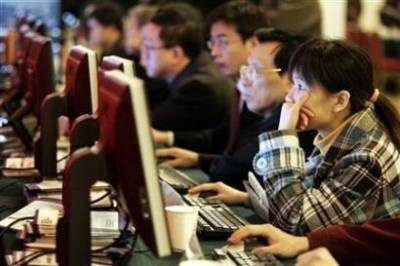 Chinese surf the Internet before a plenary session of Chinese People's Political Consultative Conference in Beijing - Photo : Claro Cortes IV/Reuters
"I like to shop for clothes online because no sales girls will pester me," said Cecelia Wang, a 23-year-old university student in Taipei, who spends about T$1,500 ($44) each month on Internet purchases.
"For online shopping, all I need to do is sit in my room and shop, which is great."
Internet retailing is increasingly making its presence felt in Asia because telecommunications infrastructure has improved, and payment modes, a major obstacle to online shopping, are now more secure, analysts say.
Internet penetration rates, the percent of the population that has Internet access, is about 17 percent in Asia versus 73 percent in North America and almost 50 percent in Europe, according to www.internetworldstats.com.
As more people in Asian countries such as China and India get hooked up to the Internet, online sales are expected to rise by an average of 20 percent a year. In some markets, such as Japan, they are expected to increase by as much as 40 percent annually.
"There is a huge opportunity for retailers in Asia-Pacific to benefit from the cost-savings of operating online," said Sandra Hanchard, a senior analyst at online intelligence service Hitwise, a subsidiary of Experian Group.
"Surfing the Internet is now a mainstream lifestyle activity. More and more traditional retailers are realising that this is an opportunity to connect directly with consumers."
Although the global economic downturn has affected both traditional and online retailers, analysts say the gloomy economic outlook is actually encouraging consumers to hunt for second-hand goods online or make greater use of auction and rental websites such as www.thatbagiwant.com.
Asia's tech-savvy online shoppers buy everything from furniture and flowers to airline tickets and iPods. Online games such as mahjong are gaining popularity in Taiwan. In Hong Kong and Australia, shoppers are drawn to overseas retail websites.
Amazon.com and eBay are among the most popular sites in Asia. In China, e-commerce firm Alibaba.com operates an online site connecting importers and exporters of Chinese goods.
ONLINE GEMS
On eBay India, which has more than 2 million registered users, top purchases in 2008 included gemstones, mobile handsets, MP3 players, women's apparel and Indian stamps and coins, said Deepa Thomas, eBay India's senior manager of pop culture.
The company's sales show that despite relatively low Internet penetration, Indians have readily embraced online shopping.
"Earlier, people only bought easily affordable items, but now they're also buying more high-value items and unusual items as they have more confidence shopping online," said Thomas.
Market research firm Euromonitor International forecasts Internet retail sales in the Asia-Pacific region will reach in excess of $71 billion by 2012, almost doubling that of 2007.
Asia still lags behind the United States, where Forrester Research projects online spending in 2009 to reach about $156 billion, up from $141 billion last year.
In the recession-hit U.S., online sales at retailers such as Best Buy Co Inc and Macy's Inc continue to grow despite weaker store sales.
Hanchard, the analyst at Hitwise, says that online retail in the Asia-Pacific region has been slow to develop compared to Europe and the United States, partly because retailers haven't put as much money into their online channels.
In Australia, broadband speed and worries about payment security have also acted as deterrents.
Improvements in Internet technology and signs that more consumers are shopping online in Asia is encouraging retailers to take advantage of online distribution channels.
RR Australia Ltd, owner of Australia's largest household appliances rental company Radio Rentals, launched online electrical store Big Brown Box in November 2008, partly because Australians can't order electronics from websites abroad due to voltage and electrical socket differences.
"We know that the appetite for consumers purchasing online is growing by the day. There are many people who are very time poor, relative to their ability to actually get out there and shop," RR Australia Managing Director John Hughes said.
EXPANDING SALES
What's interesting, say analysts at KPMG, is that the online retail sales market is expanding in more mature markets such as Taiwan, South Korea, and Japan. These are countries that possess some of the world's most effective communication services and penetration rates for broadband Internet access.
In Taiwan, online shopping transactions rose 32.3 percent to T$243 billion ($7.1 billion) last year, with most people buying clothes, accessories, beauty and health products on the Internet, the Institute for Information Industry said.
A Visa e-Commerce Tracking survey of 3,000 Internet users in Australia, Hong Kong, India, Japan, Singapore, South Korea and Hong Kong found they spent an average of $3,000 shopping online over a 12 month period ending in March-April 2008.
The biggest benefit of Internet shopping for many Asian consumers is that it gives them access to goods they simply cannot buy at home, or can find cheaper abroad.
However, there are drawbacks to Internet shopping, users say.
"Despite the convenience in all the clickings, online shopping has its own set of problems," said Annabelle Aw, a 30-year-old events organiser in Singapore.
"The last thing I bought was a watch. It took me almost three months to sort out the delivery."
(Additional reporting by Simone Giuliani in Melbourne and Rina Chandran in Mumbai; Graphic by Catherine Trevethan; Editing by Megan Goldin)
© Thomson Reuters 2023 All rights reserved.