As recession lingers, well-heeled hit resale stores
While many retail stores are working hard to lure holiday shoppers in the midst of bad economic times, a long-ignored corner of the market is on track to keep spirits high.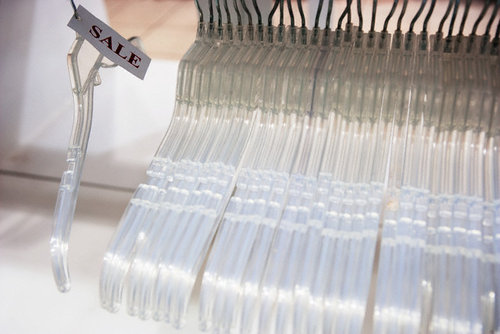 Photo: Corbis
Used merchandise stores have emerged from the dusty fringes to become one of the fastest-growing segment of the retail industry. During the first nine months of this year, sales totaled $11.47 billion, representing a 26.7 percent increase over the same period last year, according to the latest U.S. Census Bureau data.
While non-profit outlets such as Goodwill and Salvation Army are the most familiar names in this space, privately-owned resale and consignment stores that sell higher-quality goods and cater to a more upscale clientele represent the fastest-growing segment of the resale market, says C. Britt Beemer, Chairman of America's Research Group, a consumer research organization.
A few years ago only about 6 percent to 8 percent of people frequented such stores at least once during the year, he says. That number has almost doubled.
"Many middle-class consumers may be doing some belt tightening, but they still want quality," says Beemer. "Instead of going to the mall to buy a $300 designer party dress that might come out of the closet wear twice a year, a shopper might buy it at a consignment store for $50 or $60."
Ken Alterman, chief executive officer at Savers, the country's largest for-profit resale chain with 287 stores, says the company's ability to set up shop in more prosperous neighborhoods it once couldn't afford to enter is a major contributor to the recent rise in income and education levels of its customers.
"A lot of locations we've moved into were left empty by failed businesses, and we've gotten some very attractive leasing deals from landlords who need to fill the space," he says. "Their loss has been our gain."
At the recent opening of Savers' newest venue in Scottsdale, Arizona Alterman mingles with shoppers combing through racks of neatly organized, attractively displayed merchandise. The 33,000 square-foot space, once home to a now-defunct electronics vendor, sits in the middle of a large swath of mid-market retailers such as Sport Chalet, Costco and Kohl's.
Shopper Pete Griffin cradles a pair of 7 For All Mankind jeans priced at $49.99 and a $3.99 silk striped tie from Nordstrom in his right arm as he heads for the register. Normally, he says, the jeans would be about $180 and the tie around $80.
"I like that I might come in to look for one thing, find a deal I can't pass up, and walk out with something completely different," says the 33-year old, who heads a local nonprofit organization. "It's also good to know that buying second-hand is a good way to recycle and reuse."
A few aisles over in the women's section, Jan Boyle, a 63-year old retired federal worker and seasonal resident, has several Chico's sweaters stacked in her cart. "This one is only $5.99," she says as she lifts up a beaded black knit on the top of the pile. "Normally, it would be about $40 or $50."
Across town in Scottsdale at My Sister's Closet, everything from locked up discounted Prada handbags to gold jewelry to racks of leather and fur coats whispers cache. Located near several luxury resorts and high-priced restaurants, the 15,000 square foot consignment shop is a popular local haven for discriminating bargain hunters.
Ann Guido, a 43-year-old stay-at-home mother who lives in the area, swishes through the racks for a "boutiquey" top for holiday parties that will pair well with jeans. "To me, it's not so much about brand names as quality clothing with a good silhouette that's in good shape," says Guido, who visit the store about once a month.
Ann Siner, who founded My Sister's Closet in 1991, says sales at her nine clothing and furniture consignment stores in Arizona and California have grown an average of about 20 percent annually during the last four years.
"The bad economy has created a perfect storm for us," she says. "A lot of people are looking through their closets to see if their old stuff can bring in some money. Buyers looking for a bargain are trying out our stores. And landlords desperate to fill vacant space have offered excellent leasing deals in some great locations."
Sales of men's merchandise have been particularly strong at the Scottsdale store, posting an increase of 45 percent over the last year. "I'm not exactly sure why that department has done so well," says Siner. "Maybe men are tired of paying ridiculous prices for Tommy Bahama shirts, designer tuxedos and leather coats."
While it's hard to say whether stores like Savers and My Sister's Closet will continue to draw well-heeled customers when the economy improves, Beemer thinks the country's frugal mindset will be around for awhile.
"It's going to be a long time before people feel comfortable about spending freely again," he says. "These stores should have a good run for at least the next few years."
---
The author is a Reuters contributor. The opinions expressed are her own.

(Editing by Jilian Mincer and Beth Gladstone)
© Thomson Reuters 2023 All rights reserved.