Are Americans really shopping until they drop?
One glance at the numbers for the first big weekend of holiday shopping and you might think Americans are flush with cash and spending it freely.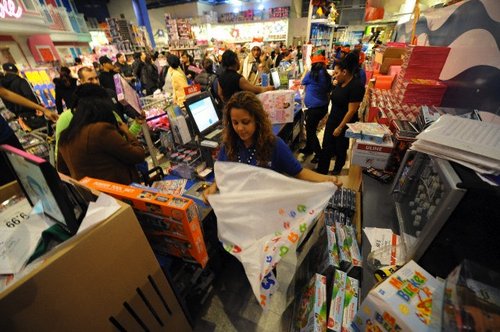 Black Friday shoppers / Photo: Corbis
A survey from the National Retail Federation, an industry trade group, indicates that Americans said they spent $7.4 billion more from Thursday's Thanksgiving through Sunday this year, compared with the same period in 2010. The news drove retail shares sharply higher and helped the U.S. stock market to rally.
But a deeper look at the data reveals it would be wrong to suggest that conspicuous consumption is back in any way. Experts warn that the report gives just a snapshot and should not be given too much weight.
"We just wouldn't draw any firm conclusions from these numbers," said Paul Ashworth, an economist at Capital Economics in Toronto.
Capital Economics has crunched weekly sales numbers from the International Council of Shopping Centers and found that holiday seasons that start strong tend to end weak.
In other words, consumers merely bring forward spending that they would have done later to take advantage of retailers slashing prices for "Black Friday," the day after Thanksgiving that marks the beginning of the shopping season.
That would not be a surprise this year, with the unemployment rate stuck around 9 percent and wages struggling to keep up with inflation.
The spending data from the federation, compiled in an online survey by BIGresearch, showed that sales rose 16.4 percent overall. Inflation-adjusted hourly earnings, however, are down 1.6 percent in the 12 months through October and other figures indicate consumers have cut back on saving in recent months to keep up spending. U.S. consumer spending rose at an annual rate of 2.3 percent in the third quarter, the commerce department has said, while a different report showed that disposable income fell 2.1 percent over the same period.
Credit card use may well have made up the difference. A total of 27.3 percent of consumers surveyed by America's Research Group said they used credit cards as their main method of purchase this weekend, up from 16.3 percent in 2010.
MasterCard said the number of transactions on its cards in the 24 hours known as Black Friday increased 17 percent from 2010. But what it did not say is how many of those transactions were made with credit cards and how many were on debit cards.
To be sure, declines in mortgage balances may have helped free up cash, as total consumer credit in the third quarter was 0.6 percent below the second-quarter level, the New York Federal Reserve said on Monday.
HOLIDAY ADJUSTMENT


One reason to be skeptical about the NRF data is that Black Friday appears to be a bigger event than it was even a few years ago. More stores participate and many opened at midnight or even earlier - during Thanksgiving Thursday - rather than waiting until 5 or 6 a.m. as they used to.
Those added shopping hours in peak season mean that year-on-year comparisons will be skewed.
And it could even distort the U.S. government's measures of retail sales over the next two months, Ashworth said.
The monthly retail sales report, which includes sales of everything from clothing and cars to gasoline, is seasonally adjusted to strip out regular factors such as holiday shopping. But the government probably will not take changes in store opening hours or shopping habits into account.
Also, extra spending on gifts might have come at the expense of other spending, such as visits to restaurants.
"If people chose to spend more on holiday gifts but offset that by spending less on discretionary services like restaurants and movie tickets, the retail sales numbers will overstate the big picture," Ian Shepherdson, chief U.S. economist at High Frequency Economics, said in a note.
Many experts expect consumers to go into a prolonged spending lull from now until close to Christmas, as they have in recent years.
"I think there is going to be hangover," said independent analyst Brian Sozzi, who follows retail stocks. "You're going to see that fatigue with the consumer."
More data reports are already out or set to come that could help fill in the picture on consumer spending, but they have their own flaws.
ShopperTrak, which uses sensors in stores and malls to measure traffic and then interprets the data for retail clients, estimated that sales rose 6.6 percent on Black Friday.
But that data is based on only one day, a day that has become less important as more people shop on Thanksgiving Day or online.
Last year, the NRF and ShopperTrak put out post-Black Friday reports that painted vastly different pictures, with ShopperTrak showing a 0.3 percent increase in sales for Friday alone, while NRF showed a 9.2 percent increase in spending over the four-day holiday period.
In the end, the results for the holiday season were in between the two numbers, with November and December sales for retailers up 5.2 percent, according to NRF.
On Thursday, MasterCard Advisors will release SpendingPulse, a study that uses MasterCard payment systems data. But MasterCard also has to rely on estimates to come up with the non-MasterCard portion of payments.
And the data is not publicly disclosed until two days after it is released to MasterCard clients, who include buy-side analysts and retailers trying to understand consumer shopping trends.
About two dozen individual retailers will put out November sales figures this week and many will comment on Thanksgiving weekend.
But that is also a very limited sample, which does not include behemoths like discount behemoth Wal-Mart Stores Inc and electronics retailer Best Buy Co Inc. They happen to be two of the retailers cited as big winners this weekend by analysts.
And even that handful of retailer reports leaves out one big piece of information ... the extent of discounting and whether that hurt profit margins.
If you are looking for that data, you will have to wait for February, when most retailers report fourth-quarter financial results.
"Black Friday strength is not particularly encouraging, as shoppers showing a greater appetite for bargains suggests tighter consumer budgets and greater risk to retailer margins," Goldman Sachs analysts said in a research note.
(Reporting by Brad Dorfman; Editing by Gary Hill)
© Thomson Reuters 2022 All rights reserved.