Arafa says its UK retailer SRG cuts rents
CAIRO, March 9 (Reuters) - A UK clothing retailer subsidiary of Arafa Holding (AIVC.CA), Egypt's biggest garment exporter, has reduced its fixed annual costs by $3 million after amending its lease obligations, Arafa said in a statement on Tuesday 9 March.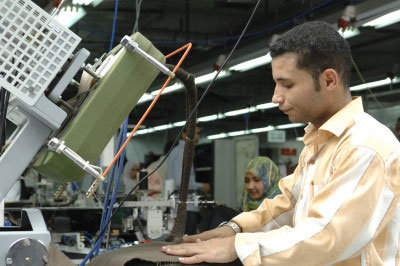 Photo: www.arafaholding.com
Analysts say the reduced rental costs of Speciality Retail Group (SRG), part of Baird Group which is 79 percent owned by Arafa Holding, will have a positive impact on Arafa's profits.
SRG creditors secured a majority vote through a voluntary arrangement between landlords and the firm. This would reduce SRG overheads by more than $3 million as the firm trims the rental costs of its branches, the statement said.
"To reduce the rent of 42 of (SRG's) stores, this will have a positive effect for SRG and Arafa ... it will reflect positively on the bottom life of (Arafa) starting this year," said Ingy El Diwany, an analyst at CI Capital Research.
Arafa Holding made a net profit of $1.2 million on revenue of $89.5 million in the third quarter of its financial year which ended in January. It is due to issue fourth-quarter results in April.
CI Capital is forecasting fourth-quarter revenue of $117 million and a net profit of $6 million.
Arafa's shares closed 3 percent lower at 0.64 Egyptian pounds ($0.117) on Tuesday 9 March. The main Cairo market index .EGX30 dropped 1.2 percent. ($1=5.482 Egyptian pounds) (Writing by Shaimaa Fayed; Editing by Greg Mahlich)
© Thomson Reuters 2021 All rights reserved.