Apparel stores light on strategy to lure shoppers
By Alexandria Sage
SAN FRANCISCO (Reuters) - Inventory at apparel stores appears out of line with the few shoppers and clothing is often overpriced or poorly displayed -- all when fashion excitement and clear retail strategies are sorely needed.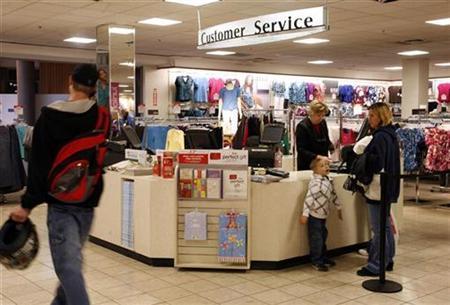 A recent afternoon visit to the Hillsdale Shopping Center in San Mateo, outside San Francisco, found stores with crammed racks and others whose prices seemed out of sync with competitors.
Accompanied by retail consultant Monica Tang of Kurt Salmon Associates, Reuters visited 14 different clothing stores -- from Hot Topic (HOTT.O) to Hollister (ANF.N), Macy's (M.N) to Chico's (CHS.N). New York-based Kurt Salmon helps retailers and vendors from strategy through merchandising and supply chain functions.
The ongoing slump in the apparel industry that has been exacerbated by the U.S. recession was obvious on entering the suburban mall, which is anchored by Macy's, Sears (SHLD.O) and Nordstrom (JWN.N).
Shoppers were in short supply and few carried store bags. Yet many stores were bursting with items for sale.
"I've never experienced a period in retail where you walk in and the racks and shelves are so well stocked. What it says to me is things just aren't moving," Tang said. "You risk overwhelming your consumer and being relevant to nobody."
Apparel retailers have posted dismal sales since last year as shoppers cut back on spending in the weak economy -- making it paramount that stores have a clear strategy to inspire wary consumers to shop.
At Children's Place (PLCE.O), 26 of the same style of white eyelet dress were crammed onto a rack. A nearby table full of T-shirts in all colors and styles represented too much choice that cluttered the store and confused the shopper, said Tang.
Tang speculated the packed racks might be due to less storage in the back rooms, or staff cuts that have kept fewer employees who can go back and forth to restock shelves. Inventory could also still be too high, despite retailers' attempts to control merchandise and protect margins.
Rival children's store Gymboree (GYMB.O) also felt crowded, but Tang praised its strategy of having store employees inform shoppers about promotions, rather than relying on signs.
"It's a major turn-off," Tang said of store signs advertising deep discounts. "It makes you feel like you're at a yard sale. It takes away from the experience and it erodes their brand."
Women's clothing chains Ann Taylor (ANN.N) and Chico's used the same more personal strategy, rather than signage, to connect with shoppers during the mall visit.
Teen retailer American Eagle Outfitters (AEO.N), by contrast, went for a big statement -- a large blue banner at the entrance advertising "All Dresses Under $30," which Tang called "a compelling message."
But the key question, she added, was whether this was a planned strategy by American Eagle or a last-minute move to counter rivals' promotions.
"Looks like it was a reaction," said Tang, noting the $39.50 original tag on a dress.
PRICES OUT OF WHACK
At rival PacSun (PSUN.O), Tang noticed what she called a "price-value equation" that seemed out of whack with their teenage consumer -- namely, a $39.50 thin cotton casual dress. At Gap (GPS.N), meanwhile, Tang pointed out a black cape for $69 and a sheer cotton ruffle T-shirt for $48.
"If someone is just the least bit price sensitive, they may think twice," she said of these garments. "These price points haven't been adjusted for this economy."
While a V-neck sweater at Gap was $29.50, a similar style could be seen at fast-fashion retailer Forever 21 for $11.50. The store, the most crowded Reuters visited, was filled with high-school students and women in their 20s and 30s, attracted by $4.50 leggings and $3.50 racerback T-shirts.
"It may not be the easiest place to shop, it's messy, but at the right price point people don't care," said Tang.
Stores where clothing appeared well merchandised, orderly and "shoppable" included Coldwater Creek (CWTR.O), Hollister and Ann Taylor.
Color schemes of khaki, black and purple at Ann Taylor, or peach and periwinkle at Coldwater, showed a good use of editing and sale signs were tasteful, Tang said, noting the restraint signaled: "We're not in desperate markdown mode."
Leaving the mall, Reuters ran into Nancy Ballard, who was returning an item from Christmas and vowed not to be tempted by promotions offered by retailers hard-pressed for sales.
"I may not make it out alive," said Ballard. "But the goal is to go do this, turn around and go home."
(Editing by Andre Grenon)
© Thomson Reuters 2023 All rights reserved.