Analysis: Beauty industry sees growth at its fingertips
PARIS | Tue Oct 11, 2011 - Nail varnish has become the top-selling fashion accessory, replacing lipstick as an affordable indulgence in austere times and leading to a boom in sales as consumers flock to buy bright-colored bottles.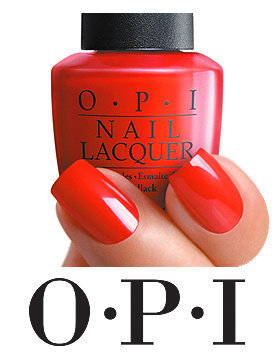 Photo : OPI
Industry insiders predict nail color will be the fastest-growing beauty business in the next few years, providing a small yet promising pocket of growth for beauty groups such as Coty and L'Oreal who have led the rush to snap up independent brands.
In France, over the whole of 2010, perfume sales in department stores rose 2 percent. Over the same period nail color jumped 42 percent, according to global market research company NPD.
"We used to measure the economy with the lipstick index - when times got tough, we bought a lipstick. Now the economic barometer is measured by nail polish: as times get difficult, you buy a nail polish," said Suzi Weiss-Fischmann, co-founder and artistic director of OPI, a U.S. nail polish company acquired last year by perfume maker Coty COTY.UL.
"It is a small thing that makes you feel good and brings you instant gratification."
Nail polish is still a small sub-sector of the global beauty industry compared to other make-up items such as lipstick, and looks even smaller when compared to perfume, but it is on its way to becoming an important business, analysts say.
"We are seeing an explosion in many countries," said Karen Grant, senior global analyst and vice-president of NPD's beauty division, mentioning the United States, France and Britain as examples.
She likened the trajectory of nail varnish sales to that of lip gloss, a niche business which saw sales grow tenfold over the past decade. "If the nail polish market continues to grow, it could also become a big category," Grant said.
In the U.S., nail polish sales from department stores and mass market retailers excluding Walmart, rose 22 percent to $337 million in the six months to June 30, she said. Over the whole of 2010, sales rose 15 percent to $530 million.
In Europe, the total mass market value of the nail polish market grew twice as fast as the overall make-up market, jumping 29 percent between 2007 and 2010 while the broader make-up market rose 17 percent, based on figures from Nielsen and IRI research cited by L'Oreal.
Nail bars, which have mushroomed in big U.S. cities, have become increasingly prevalent on Europe's high streets in recent years, targeting women seeking a small morale-boost at a small price.
ZANY NAMES
Some of the most coveted shades go by zany names. But the pace at which consumers are buying them is attracting the most hard-headed experts in the industry.
OPI, whose bright red shade "My Chihuahua bites" sells for around 14 euros a bottle, expects volumes this year to jump to 50 million bottles from 30 million bottles in 2010.
OPI, the market leader in professional salons, made over $200 million in sales in 2010 and expects to be close to $300 million this year.
Bernd Beetz, chief executive of Coty and a seasoned beauty industry manager, oversaw the acquisition of OPI last year and estimates the nail market to be growing at around 20 percent a year, compared to just 4-5 percent growth in the make-up market and 2-3 percent growth in perfume.
"I think the nail market will continue to grow in double-digit terms over the next few years, driven by innovation and expansion in new markets," Beetz told Reuters in an interview.
As Coty snapped up OPI, competitor L'Oreal (OREP.PA) bought rival brand Essie.
Other beauty groups are now on the prowl for other independent nail brands to reduce their exposure to a mature and overcrowded perfume market.
Targets include Nailstation in France, Art Deco in Germany and Britain's Nails Inc, whose revenues in the year to June rose 20 percent and profits tripled.
Nails Inc sells nail polish to retailers such as Boots and Sephora, owned by luxury giant LVMH (LVMH.PA). The privately-owned company said recently it had rejected approaches from private equity groups.
Nathalie Duran, deputy head of Yves Saint Laurent's make-up and perfume operation -- owned by L'Oreal -- shares Beetz's optimism about the nail market.
"It (nail color) is a way for women to change their allure without changing their clothes. I think the trend will continue and will become increasingly sophisticated," she told Reuters in an interview.
NAIL COUTURE
The high-end luxury brands have been in on the act for a while. Chanel's "Rouge Noir" - designed to be the same color as dried blood -- caused a storm among fashionistas when movie star Uma Thurman wore it in the 1994 movie Pulp Fiction.
More recently, Chanel lit the latest surge of interest about two years ago with a range of original colors including 505 - "particuliere" -- a mud-colored mix of purple, brown and grey which proved a smash with consumers.
Nail polish from Chanel, Dior or Yves Saint Laurent - the market's luxury brand leaders - costs around 21 euros compared to OPI's 14 euros. That is a discount compared to luxury perfumes which start at around 50 euros and lipsticks at 25-30 euros.
Now other labels are taking note.
At Vogue Fashion Night Out on September 8, an event created three years ago by the glossy magazine to encourage people to shop in fashion capitals such as Paris, New York, Milan and London, there were nail bars at many fashion brands for the first time.
Rubbing shoulders with Chanel and Dior were labels like Barbara Bui (BBUI.PA) in Paris and Karen Millen in London -- which so far have no beauty products lines but set up nail polish stations in their shops that evening nonetheless.
"Nail color has become the fashion accessory par excellence," says Elisabeth Martorell, deputy editor in chief of the beauty section of Elle magazine in France. "It is also open to all age categories."
By Astrid Wendlandt
Editing by Sophie Walker)
© Thomson Reuters 2023 All rights reserved.