American trade show D&A launches in Paris
After New York and Los Angeles, the fashion trade show Designers & Agents is continuing its expansion and has arrived in France. The show will be in Paris for the next Fashion Week from 1-4 October 2010.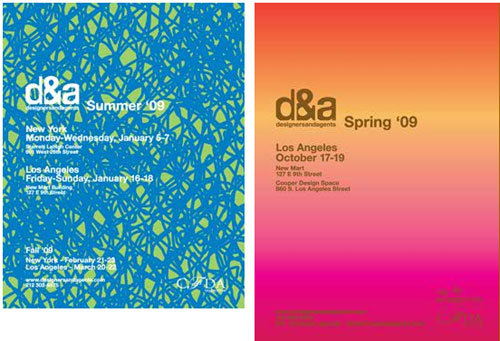 Affiches des salons D&A en 2009
Created in 1997 by Barbara Kramer and Ed Mandelbaum, D&S is an independent fashion and lifestyle trade show that is international and alternative.
In Paris the event will be held at the Galerie Nikki Marquardt, situated in the Marais district in the historic Place des Vosges. The Parisian event will present a selection from D&A with snippets from around thirty American brands. This offering will be complemented by a range of other international labels over the course of subsequent editions.
"The Designers & Agents in Paris will be a presentation of our point of view of those that we think are the best current designers," explained Barbara Kramer. "We have a real contribution to bring to the Parisian fashion scene."
The part of the selection criteria that is having more and more emphasis placed upon it by D&A is that of the environmental ethic with which brands work, particularly as regards sustainability.
Designers & Agents is the only trade show to be affiliated with the Council of Fashion Designers of America (CFDA).

By Céline Vautard (English version by Jonathan Fulwell)
Copyright © 2023 FashionNetwork.com All rights reserved.