African designers make fashion debut in New York
NEW YORK (Reuters) - African designers showing collections for the first time in New York see the election of Barack Obama, the first black U.S. president, as an opening to the huge American market.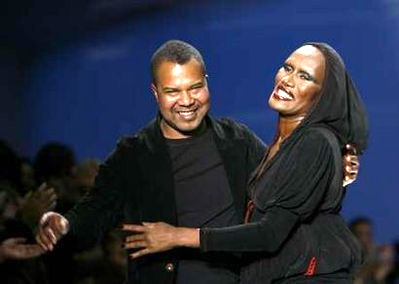 Entertainer Grace Jones (R) laughs with designer Lamine Kouyate after the XULY.Bet 2009 African Fashion Collective show during New York Fashion Week
Photo : Lucas Jackson/Reuters
African textiles and beadwork have served as inspiration for major designers for decades, but African designers have not yet found a firm footing in the U.S. fashion market.
Four African labels -- Xuly Bet by Malian designer Lamine Badian Kouyate, Tiffany Amber by Nigeria's Folake Coker, Momo by Nigeria's Fati Asibelua and Stoned Cherrie by South Africa's Nkhensani Nkosi -- are showing collections as part of the African Fashion Collective on Friday.
Scores of designers are showing their Fall 2009 collections at New York Mercedes Benz Fashion Week, a semi-annual event that attracts thousands of fashion industry insiders.
"I do think that the timing couldn't be better because there is that kind of euphoria over having a president of African origin," said Nkosi, who calls her looks "Afro-urban."
"But it is the worst time in some regard because people are a lot more careful of what they spend their money on," she said in an interview before the show.
The global economic downturn has U.S. consumers holding tightly to their purse strings, reluctant to spend money on discretionary purchases such as fashion.
Prices for Stoned Cherrie range from $500 to $2000.
To win followers in a difficult climate, the designers are marketing their collections as "affordable luxury."
"In every cloud there is a silver lining," said Nduka Obaigbena, the publisher and chairman of Nigeria's "ThisDay" newspaper and sponsor of the African Fashion Collective event in Bryant Park. "This is why we should look toward Africa for strong, cost-effective designs."
GETTING STARTED
Kouyate, whose Xuly Bet means "Keep an open mind" in the Wolof language, is the best known of the four designers and the only one to have shown previously in New York. But he said he has struggled despite strong reviews.
His urban streetwear has attracted a major following in Paris, but a Manhattan shop closed in 2001 after four years and deals with U.S. retailers have not materialized.
"Fashion just started as a business in Africa," he said.
This collection takes basic white T-shirts and transforms them by cutting, stitching and accessorizing the material. Prices range from less than $100 for a skirt to more than $700 for a coat.
African designers view the world through their own reality, he said. "We customize it. That creates new energy."
Asibelua, who launched Momo in 2000, said she is not expecting any windfall from the show but said the recognition gained will pay off in the long term.
"Most of the buyers are already full for this season, but I think it is good exposure," she said.
Pieces in her collection -- animal prints on knit and jersey fabrics -- range in price from $300 to $3500, she said.
Obaigbena dismissed pessimism about the timing of the show, saying the designers are ready for international exposure.
The designers said they are holding out hope that first lady Michelle Obama, who graces the March cover of Vogue and is celebrated in the fashion world, will take notice as well.
"It's up to us to take advantage of the opportunity," said Obaigbena. "After all, at least we have provided some genes to the American presidency so there should be more interest. It is an opportunity for Africans to show the world how strong they can be."
© Thomson Reuters 2023 All rights reserved.