A new director, a new style team, the spotlight on accessories; in one year 1.2.3 has completed a complete 180° turn so that its last autumn-winter collection was a delight to behold. For next season, the off-the-peg brand is going one step further with American supermodel Missy Raider posing for its campaign.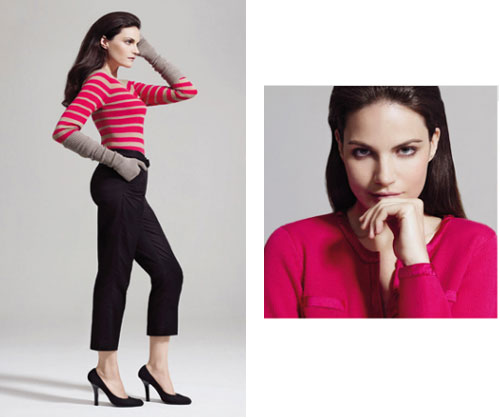 Missy Raider for 1.2.3
Modelling for Comme des Garcons for H&M, in XXL format on Gap posters beside her sister Frankie, both in jumpers, hats and scarves, a flurry of magazine covers and back-to-back catwalks… Melissa "Missy" Raider is still going strong. It must be said with her ocean blue eyes, her porcelain skin and long chestnut brown hair, she has charm. For this autumn-winter season she can be seen in 1.2.3's publicity campaign.
Photographed by Sofia Sanchez and Mauro Mongiello, according to the brand she portrays its "allure", representing "a discreet way to announce" their new style. In this regard, Richard Alibert, the new director, told FashionMag.com at the end of 2008 (French newsletter 524) that he wanted "to take the brand out of its overly classic strait-jacket and boost its 'desirability'". He added that it was heading toward "an upmarket style (…) with careful cuts and finishes, quality materials and accessible prices."

By Jonathan Fulwell (Source: Emilie-Alice Fabrizi)
Copyright © 2023 FashionNetwork.com All rights reserved.