"Terrified" Tom Ford launches debut film in Venice
By Mike Collett-White
VENICE (Reuters) - U.S. designer Tom Ford admits he is terrified.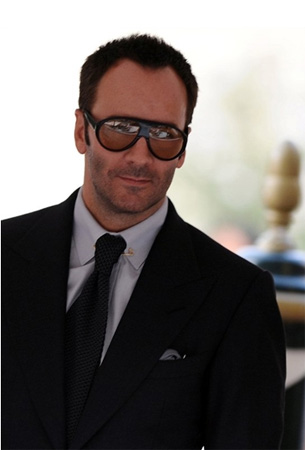 Tom Ford - Photo: AFP
The man credited with turning around Gucci before launching his own design line has traded fashion for film with his debut feature "A Single Man," starring Colin Firth as a middle aged gay professor mourning the loss of his younger lover.
Ford based the movie, which has its world premiere at the Venice film festival on Friday 11 September, on a novel of the same name by Christopher Isherwood.
"Really no one's seen it yet, so of course I'm terrified because in a way it's the most personal thing I've ever done and it's the thing that is the most expressive of who I am," the 48-year-old told Reuters in an interview.
"If you know me as a fashion designer, people would think that I'm one thing -- slick, sexy. That's something that I do as a product.
"This (film) for me was the first pure artistic expression that I've ever created so in that way it's much more personal to me and I'm more vulnerable in a way because it is so personal."
The early signs are good for Ford, with several critics in Venice praising the movie and tipping Firth to win the best actor prize at an awards ceremony on Saturday 12 September.
Ford said he shared some traits with the central character George, played by Firth, who contemplates suicide after his lover is killed in a car crash. Julianne Moore plays Charley, his former girlfriend, confidante and neighbor.
Living in the past, and unable to contemplate a future, his despair lifts when he befriends a student who reminds him of the beauty around him and the value of living in the present.
"I think most people come to the point in their life where they realize that maybe everything they had been working toward isn't really ultimately making them happy," said Ford.
"I think in our culture we are always living in the future, we're always thinking, 'when I get this house I'm going to be happy ... when I get that girl I'm going to be happy, when I get those shoes I'm going to be happy.' That's really the point of the movie, to live in the present."
"NOT A GAY STORY"
Ford said he based George's meticulous, even comic preparations for ending his life on somebody in his family.
"Someone did kill themselves in exactly that way -- went to the store, bought a gun ... went home and got a sleeping bag ... laid everything out, got into the sleeping bag, zipped it up and killed himself because he didn't want to make a mess."
Ford switches from sepia tones to bright colors to reflect George's changing moods, and glorifies the male body with slow motion shots of men swimming naked and playing tennis without shirts in the burning sun.
But despite the storyline and style of the shooting, Ford did not want his to be labeled a gay film.
"It's not a gay story," said Ford, who is openly gay.
"One of the things I always loved about Isherwood's books ... (is that) the gay character never struggles with his homosexuality, he's not beaten or mistreated by the world at large, it's not about being gay.
"He just depicts characters who happen to be homosexual going through the normal pains and pleasures that we all go through in life."
Ford said he was already writing his next movie, and planned to juggle film making and his fashion business long term.
(Editing by Paul Casciato)
© Thomson Reuters 2023 All rights reserved.