"Spongebob Lagerfeld" raises more than €1000 for WWF
Spongebob, Karl and many others have teamed up with WWF France. Organised by Maître Pierre Cornette de Saint Cyr, this auction of celebrity look-a-like dolls was held on the 26th of November at the Pavillon Eau and succeeded in raising more than €7000 for the charity.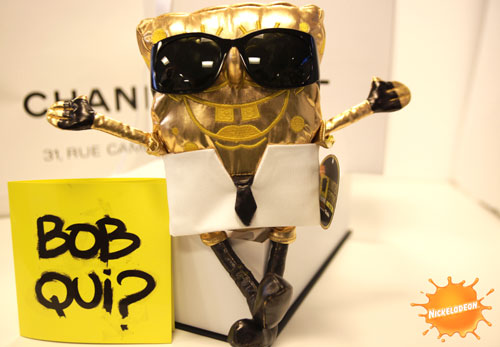 Spongebob Lagerfeld
The auction had a host of products based on and signed by Patrick Poivre d'Avor, Inès de la Fressange, Mademoiselle and Marc-Olivier Fogiel among others, but it was Spongebob Lagerfeld that captured the most attention.
A golden Spongebob, all smiles behind black sunglasses was signed by Karl Lagerfeld and was bought for just over €1000 in the end.
There was an additional surprise for Spongebob fans as the 10 year anniversary special of the show was broadcast during the event.
By Jonathan Fulwell (Source: J. Mangaud)
Copyright © 2023 FashionNetwork.com All rights reserved.