"Recycled" diamonds come back to haunt industry
TORONTO - Sabrina Thompson, a 30-something restaurant manager from Toronto, says she turned to Craigslist to sell her diamond engagement ring after her relationship ended.
An embittered Thompson, who wants C$1,800 ($1,800) for the half-carat ring, says the cash will help her move on with her life.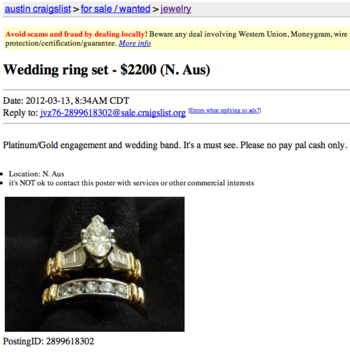 Ad posted on Craigslist
"He said I could keep it, but I wouldn't have given it back anyways," she told Reuters. "If it doesn't sell in the next month, I'm probably just going to go to a pawnshop."
Experts say a growing cadre of people, especially in North America, are thinking along the same lines. Rather than hanging on to memories of a failed relationship or departed relative, they are opting to "recycle" their diamonds.
"You have no money to pay your medical insurance, you have no money for your mortgage," said Chaim Even-Zohar, a consultant with Israel's Tacy Ltd. "So you take your jewelry and your diamonds to the pawn shop."
It's a trend that is sending ripples through the gem industry at a time when high-quality rough diamonds have become more difficult to find, and more expensive to mine.
The growing influx of "used" gems means prices could stagnate over the long term despite the supply restraints, Even-Zohar said during a presentation at PDAC, the huge mining industry convention held last week in Toronto.
To be sure, analysts were already expected a short-term dip in prices as a weak global economy cuts disposable income in Europe and North America. But the forecast by Even-Zohar, a respected expert, seemed to confirm a nagging fear that recycling could hurt explorers and miners for years.
The numbers already point in that direction, he says. The rough diamond market, before the stones are polished and cut, was worth about $15.2 billion in 2011, and could drop some 10 to 13 percent in 2012. At the same time, Even-Zohar expects $1 billion worth of recycled diamonds to be put back into the market this year.
TORONTO'S "CASH MAN"
Anecdotal evidence signals that something is afoot. Russell Oliver, a Toronto jeweler known for camp TV spots where he waves fistfuls of cash at the camera, said more diamonds than ever are passing through his shop.
"I can't tell you if there's more divorces, or more people are handing over their inheritances," said Oliver, who calls himself "The Cash Man." "I can't tell you why, but in the last year, 2011, I bought so many diamonds."
By his estimate, Oliver bought 30 percent more diamonds last year than in years past.
Cash-for-gold operations like Oliver's buy rings, remove the diamonds, melt down the gold and sell the materials to wholesalers. They ship the diamonds to cutting houses for polishing and recutting, and the gems go back on the market.
In the early 1900s, diamonds became a popular means of ensuring that if a man broke off an engagement, the woman would have financial compensation for any damage to her reputation.
Later, as Americans become more wealthy, engagement rings got bigger and more expensive. But that is changing fast.
"Men are still buying diamonds for women, but they're not as expensive as they used to be," said Salmon Partners analyst Raymond Goldie.
Add to the mix an aging population, fewer marriages and an uncertain financial outlook, and the traditional market for diamonds is losing traction.
In January, Tiffany & Co said holiday season sales had weakened markedly in the United States and Europe, prompting the retailer to lower its full year forecast.
ASIAN DEMAND
But in Asia, it's a different story. Polished diamond demand rose 25 percent in China in 2010, while demand in India climbed 31 percent, according to BMO Capital Markets data.
That same year, 18 percent of Tiffany & Co's retail sales were in the Asia-Pacific region excluding Japan, compared with 51 percent in the Americas. The luxury retailer's 2011 results and geographical sales mix are due later this month.
The growth in new markets is expected eventually to make up for slowing or stagnant demand elsewhere, according to analysts
But the supply side of equation is another story. There are new sources of lower quality diamonds, mainly from Zimbabwe, but high-quality projects are small, with big operational challenges.
To mine the Gahcho Kué project in Canada's Northwest Territories, for example, parts of a 793 hectare (2,000 acre) lake must be drained, and then refilled after mining is over.
The project, owned by De Beers Canada and Mountain Province Diamonds, is expected to cost at least C$550 million to build and production is not likely before 2016.
"Economic diamond deposits are just very, very difficult to find," said BMO Capital Markets analyst Edward Sterck.
"I do see some growth in supply going forward," he added. "But we're coming from a depressed base after the global financial crisis when a lot of production was shuttered."
BHP Billiton, one of the world's largest diversified miners, has put its capital to work elsewhere. It has put its remote Ekati diamond mine in Canada's Northwest Territories up for sale and sold its stake in the Chidliak diamond project, on the Arctic's Baffin Island, to Peregrine Diamonds Ltd.
LONG-TERM PROBLEM FOR INDUSTRY
Despite the supply curbs, analysts don't see any imminent rally in rough diamond prices, in part because of the current global economic environment. Indeed, Bank of America Merrill Lynch expects a 7 percent pullback in prices this year.
Rough diamond prices crashed during the economic crisis as luxury spending waned, but then regained lost ground. Prices turned down again in mid-2011 as cutting houses faced credit issues and lower-quality material flooded the market.
"The first half of this year could be challenging for the diamond sector with rough and polished prices remaining fragile and volatile," RBC analyst Des Kilalea wrote in a note to clients earlier this year.
But even when the global economy recovers, recycling could remain an issue, warns Even-Zohar. As more consumers decide to cash in their memories, the industry could struggle to keep prices high enough to sustain the investment in new mines.
Up to $1 trillion worth of "used diamonds" are locked away in safe deposit boxes and jewelry cases, and many gems could find their way onto the market, according to Even-Zohar's data.
"We have a problem with diamonds," he joked. "The problem is diamonds last forever." ($1 = 0.9934 Canadian dollars)

By Julie Gordon

(Editing by Frank McGurty and Janet Guttsman)
© Thomson Reuters 2023 All rights reserved.